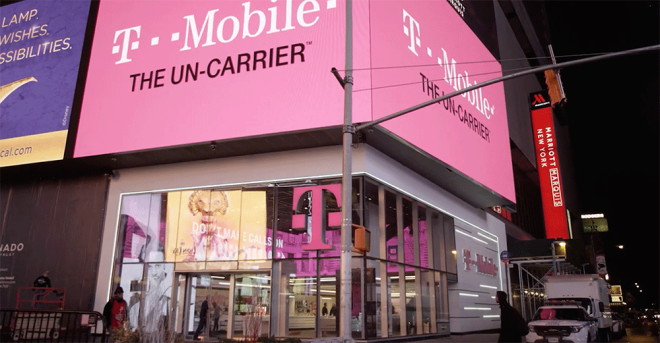 T-Mobile's newest deal will kick off this Friday.
Starting October 19th, customers can trade in their existing smartphone and get a new flagship smartphone for as low as $10 per month. The phones that are eligible for this deal include the Samsung Galaxy Note 9, Galaxy S9, Galaxy S8, LG V40 ThinQ, LG G7, iPhone XS, iPhone XS Max, and iPhone XR.
With this deal, T-Mobile will give you $360, $250, or $150 via 36 monthly bill credits towards the purchase of your new device, depending on your trade-in. The devices that are eligible for trade-in are:
Apple iPhone 7, iPhone 7 Plus, iPhone 8, iPhone 8 Plus; Samsung Galaxy S8 series, Note8; Google Pixel 2, Pixel 2 XL, Pixel, Pixel XL; LG V30, G7
iPhone 6s, iPhone 6s+, iPhone 6, iPhone 6+; Samsung: GS7 series, Note 5, GS6 series; LG: V20, G6; Motorola: Z2 Force; One Plus: 5, 5T, 6.
iPhone 5C, iPhone 5, iPhone 5s, iPhone SE; Samsung: GS4 series, GS5 series, Note 4; HTC: 10; LG: G5, G4, V10; Motorola Nexus 6; OnePlus: 3, 3T, X, 2, 1
T-Mobile points out that customers who take advantage of this deal can get a new phone and monthly plan for as low as $40 per month. That includes the T-Mobile Essentials plan for a family of four with autopay enabled. If you want to step up to the T-Mobile One plan, the price per line for a family of four will increase to $50 per month with autopay.
Also of note is that these offers include a 36-month Equipment Installment Plan (EIP), which we first learned of last weekend. At the time, it was only available on the Galaxy Note 9, but now it looks like T-Mobile is planning to expand the 36-month EIP to more devices. For example, T-Mo says that customer can get an LG V40 ThinQ for $0 down and $25.56 per month for 36 months, or an iPhone XR for $0 down and $20.84 per month for 36 months.
T-Mobile's offer will launch this Friday, October 19th, along with iPhone XR pre-orders. Those pre-orders will begin at 12:01 am PT on Friday, and the iPhone XR will launch on October 26th.
Sources: T-Mobile (1), (2)