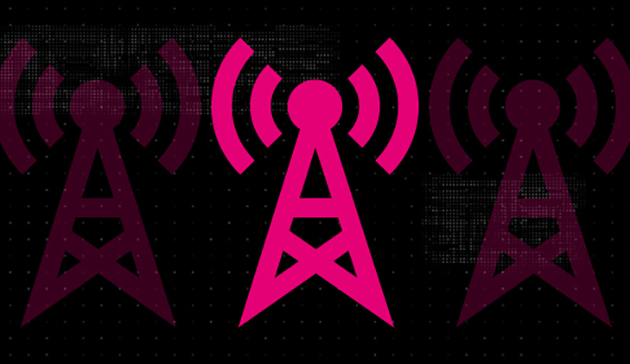 T-Mobile today announced some network news to help you over the Wednesday hump.
T-Mobile CTO Neville Ray says that T-Mo has upgraded hundreds of cell sites with more mid-band LTE capacity in the last two weeks. These upgrades include both PCS and AWS spectrum.
100s of sites were upgraded with more midband capacity in just the last two weeks and #WeWontStop! This is why we've had the fastest LTE network for 4 years!! @TMobile @MetroPCS #Amped pic.twitter.com/2mqrpXikYv

— Neville (@NevilleRay) September 19, 2018
Included in this latest round of mid-band LTE upgrades are cities like Spokane, WA; Denver, CO; Little Rock, AR; and Baltimore, MD. As usual, you can find the full list of cities and towns in this batch of mid-band LTE upgrades below.
Little Rock, AR
Atwater, CA
San Jose, CA
Berkeley, CA
Oakland, CA
Brentwood, CA
San Francisco, CA
Sunnyvale, CA
Rosamond, CA
Lancaster, CA
Bakersfield, CA
Newport Coast, CA
Irvine, CA
San Diego, CA
La Jolla, CA
Rancho Cucamonga, CA
Sylmar, CA
Culver City, CA
Compton, CA
Los Angeles, CA
Colorado Springs, CO
Golden, CO
Denver, CO
Commerce City, CO
Washington, D.C.
Fenwick Island, DE
Miami, FL
Deland, FL
Gainesville, FL
Middleburg, FL
Hephzibah, GA
Atlanta, GA
Woodstock, GA
Cumming, GA
Chicago, IL
Oswego, IL
Dekalb, IL
Indianapolis, IN
Plainfield, IN
Brownsburg, IN
Clive, IA
West Des Moines, IA
Waukee, IA
Runnells, IA
Wichita, KS
Kansas City, KS
Baton Rouge, LA
Rosedale, MD
Baltimore, MD
Pasadena, MD
Norton, MA
Pembroke, MA
Canton, MA
Woburn, MA
Detroit, MI
Omaha, NE
Elkhorn, NE
Las Vegas, NV
Sullivan, NH
Jersey City, NJ
South Plainfield, NJ
Bayonne, NJ
Buffalo, NY
Queensbury, NY
Sag Harbor, NY
Brooklyn, NY
Yonkers, NY
Staten Island, NY
New York, NY
Charlotte, NC
Matthews, NC
Durham, NC
Xenia, OH
Columbus, OH
Harrisburg, PA
Richfield, PA
Port Royal, PA
New Cumberland, PA
Mount Union, PA
Mechanicsburg, PA
Trujillo Alto, PR
Guaynabo, PR
Toa Baja, PR
Guayama, PR
Las Piedras, PR
Salinas, PR
Cidra, PR
Caguas, PR
Patillas, PR
Naguabo, PR
Arroyo, PR
Yauco, PR
Morovis, PR
San Sebastian, PR
Quebradillas, PR
Moca, PR
Lares, PR
Isabela, PR
Guayanilla, PR
Dorado, PR
Sabana Grande, PR
Camuy, PR
Aguadilla, PR
Aguada, PR
Greenville, SC
Roebuck, SC
Oelrichs, SD
Hot Springs, SD
Black Hawk, SD
Whites Creek, TN
La Vergne, TN
Pampa, TX
Round Rock, TX
Pharr, TX
Mission, TX
Brownsville, TX
San Antonio, TX
Navasota, TX
Houston, TX
Paris, TX
Plano, TX
Chesterfield, VA
Hampton, VA
Richmond, VA
Spokane, WA
Selah, WA
Arlington, WA
Walton, WV
Spencer, WV
Welch, WV
Menomonee Falls, WI
Gillette, WY
Source: Neville Ray (Twitter)