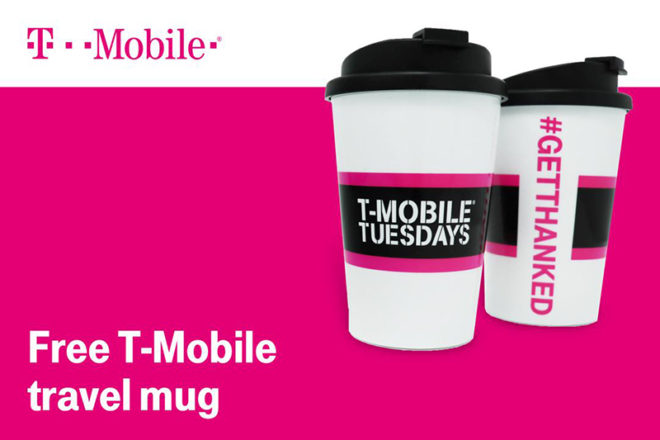 T-Mobile occasionally gives out free T-Mo-branded gear to its customers as part of T-Mobile Tuesdays, including a T-Mobile water bottle and a T-Mobile reusable bag. This next Tuesday will bring another T-Mo-branded goodie.
On Tuesday, September 25th, T-Mobile customers can score a free T-Mo travel mug. The mug looks like a disposable coffee cup with a white cup and black lid, but it's got a black and magenta stripe around the middle along with "T-Mobile Tuesdays" and "#GetThanked" branding.
In addition to T-Mobile customers getting a free travel mug, they'll be able to score one for a friend. So if you've got a buddy that loves coffee or tea, you'll be able to get them a nice little gift next week.
Rounding out next week's gifts are Shell gas savings of $0.25 per gallon and $25 concert tickets from Live Nation.
Next week's prizes are all eGift Cards from Panera Bread. Ten grand prize winners will each score a code good for $200 in Panera eGift Cards and 500 first prize winners will each get a code valid for $20 in Panera eGift Cards. Finally, 299,990 second prize winners will each get a code good for a $2 Panera eGift Card.
Source: T-Mobile Tuesdays