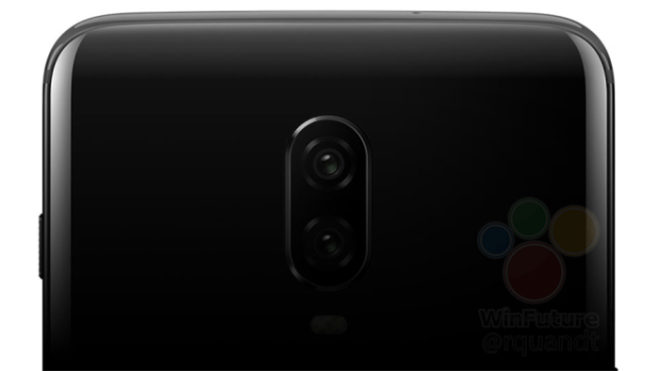 As we get closer to October and the OnePlus 6T's expected launch, more details on the device have trickled out.
First up, a new image shared by WinFuture.de claims to show off the dual rear camera setup of the OnePlus 6T. It looks similar to the dual rear camera setup on the OnePlus 6, complete with two vertically-stacked cameas in the center of the phone and a flash below them. One big difference with the OnePlus 6T, though, is that there's no fingerprint reader below it.

OnePlus has already confirmed that the OnePlus 6T will have an in-display fingerprint reader, so it's not too surprising that there's no rear fingerprint reader included as well. This image does appear to confirm that the 6T will indeed feature a dual rear camea setup like the 6 before it, so don't expect any major camera upgrades with the new model.
This leaked image isn't the only thing that's come out today that shows the OnePlus 6T with a dual rear camera setup. A official OnePlus 6T teaser commercial has found its way online, giving us a brief glimpse of the phone's rear cameras. You can view the ad, which originally aired in India, below.
The OnePlus 6T is expected to launch in October, and rumors have said that it'll be available from T-Mobile. If true, it'll be the first time that a OnePlus smartphone is sold by a carrier in the U.S. Most of the features of the device are still unknown, but we do know that it'll ship without a headphone jack. The good news is that with a release expected to happen in October, we may not have much longer to wait before all is revealed.
Sources: WinFuture.de, YouTube