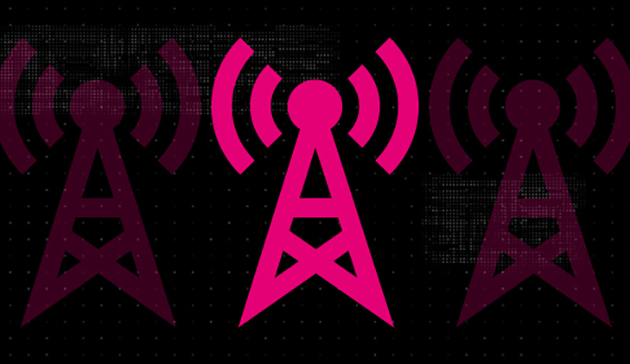 Days after announcing a mid-band LTE capacity expansion, T-Mobile has confirmed an expansion of low-band LTE, too.
T-Mobile CTO Neville Ray says that T-Mo added more low-band LTE to dozens of cell sites across the country in the past two weeks. This low-band LTE expansion includes 600MHz and 700MHz spectrum.
Our network team added lowband LTE to dozens of sites in just two weeks, which means more and better coverage. And #WeWontStop!! @TMobile @MetroPCS #AcrossTheGrid pic.twitter.com/WeDEIVKMG0

— Neville (@NevilleRay) August 24, 2018
Some of the markets that gained low-band LTE this week include Oakland, CA; West Palm Beach, FL; Baltimore, MD; and Cody, WY. You can find the full list of cities and towns that gained low-band LTE in the past two weeks below.
Salem, AL
Smiths Station, AL
Apache Junction, AZ
Cave Creek, AZ
Visalia, CA
Lompoc, CA
Oakland, CA
Antonito, CO
Bridgeport, CT
Saint Johns, FL
Tallahassee, FL
West Palm Beach, FL
Wesley Chapel, FL
North Fort Myers, FL
Cape Coral, FL
Immokalee, FL
Englewood, FL
Valdosta, GA
Columbus, GA
Wailuku, HI
Honolulu, HI
Des Plaines, IL
Anderson, IN
Indianapolis, IN
South Portland, ME
Baltimore, MD
Nottingham, MD
Rosedale, MD
Quincy, MA
Detroit, MI
Minneapolis, MN
Kansas City, MO
Tonopah, NV
Sparks, NV
Sullivan, NH
Sea Isle City, NJ
Dunellen, NJ
Santa Fe, NM
Las Cruces, NM
Animas, NM
New York, NY
Bronx, NY
Hyde Park, NY
Cincinnati, OH
Sheridan, OR
Green Lane, PA
Montrose, PA
Aiken, SC
Sturgis, SD
Hohenwald, TN
Plano, TX
Paris, TX
Woodway, TX
Houston, TX
Austin, TX
El Paso, TX
Sterling, VA
Winchester, VA
Richmond, VA
Prince George, VA
Roanoke, VA
Carnation, WA
North Bend, WA
Ravensdale, WA
Moundsville, WV
Cody, WY
Source: Neville Ray (Twitter)