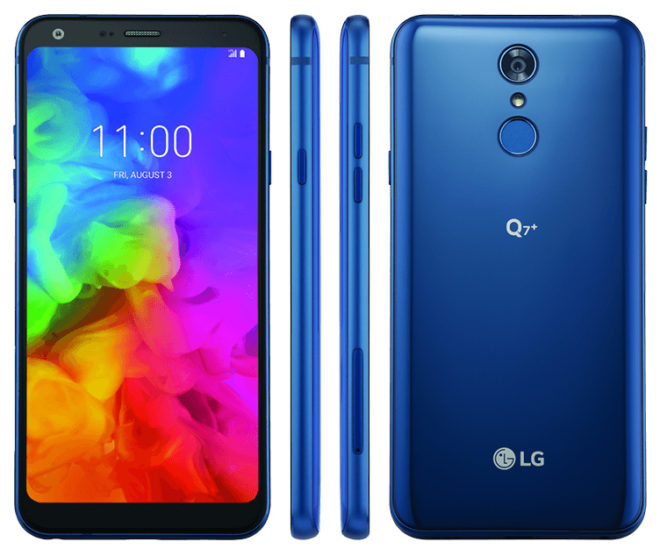 Earlier this week, we learned that T-Mobile could launch the LG Q7+ soon. Turns out that that was spot on.
The LG Q7+ is now available from T-Mobile. Pricing is set at $14 down and $14 per month for 24 months on EIP, or $350 full retail price. T-Mobile is not offering the LG Q7+ through JUMP! On Demand.
In exchange for your hard-earned dollars, you'll get an Android 8.1 smartphone with a 5.5-inch 2160×1080 display and 8MP camera on its face. Around back there's a 16MP camera with phase detection autofocus as well as a fingerprint reader below it. LG has also included a facial recognition feature if you'd prefer to unlock the Q7+ that way.
Inside the LG Q7+'s IP68 water and dust resistant body is an octa-core Snapdragon 450 processor, 4GB of RAM, 64GB of storage (up to 49GB usable), and a microSD card slot. There's also a Hi-Fi Quad DAC (digital-to-analog converter) for high-quality sound when using wired headphones. Rounding things out is a 2890mAh battery.
One other feature of the LG Q7+ that's worth mentioning is its 600MHz LTE support. That means that it can access T-Mo's 600MHz LTE coverage, which reaches farther and is better at penetrating buildings than mid-band LTE and is now live in nearly 1,000 markets. The LG Q7+'s LTE support includes Bands 1, 2, 3, 4, 5, 7, 12, 13, 20, 38, 41, 66, and 71.
T-Mobile has been working to grow its stable of 600MHz LTE phones lately with devices at different price points. The LG Q7+ keeps that effort going, giving customers yet another option for getting onto T-Mo's growing 600MHz LTE coverage.
Source: T-Mobile