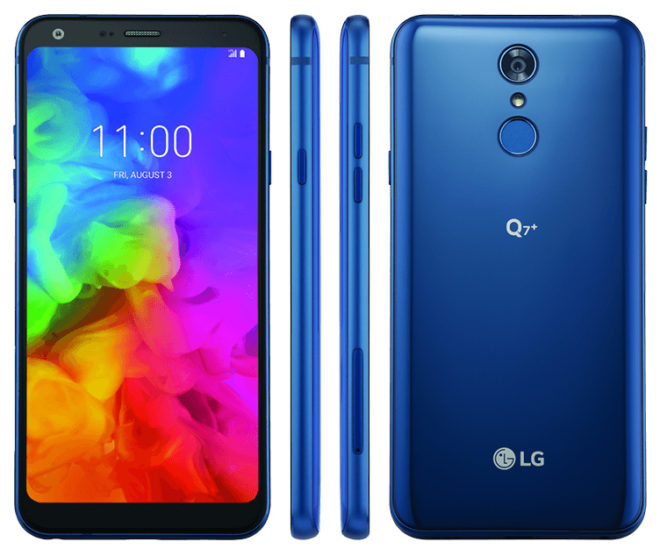 We've seen several new phones launch at T-Mobile with 600MHz LTE support recently, and it looks like we'll be getting another one this week.
Support pages for the LG Q7+ appeared on T-Mobile's website today. These include a software updates page that lists the LG Q7+'s launch software as being "available August 3, 2018." This suggests that the LG Q7+ will be released by T-Mobile this Friday.
When it comes to specs, the LG Q7+ features a 5.5-inch Full HD+ display, octa-core Snapdragon 450 processor, 4GB of RAM, and 64GB of built-in storage along with a microSD card slot if you want to add more storage. There's a 16MP rear camera with phase detection autofocus included, too, along with an 8MP front-facing camera and 2890mAh battery. This Android Oreo phone also offers IP68 water and dust resistance.
T-Mobile says that the LG Q7+ works with LTE Band 71, aka 600MHz LTE. The phone's spec list includes LTE bands 2, 4, 5, 12, 66, and 71, as well as LTE Roaming Bands 1, 3, 7, 13, 20, 38, and 41.
There's no word yet on how much the LG Q7+ might cost when it launches at T-Mo. Its specs indicate that it sits somewhere in the mid-range tier, so it shouldn't be too hard on buyers' wallets. Stay tuned and I'll update you with more as it becomes available.
Source: T-Mobile