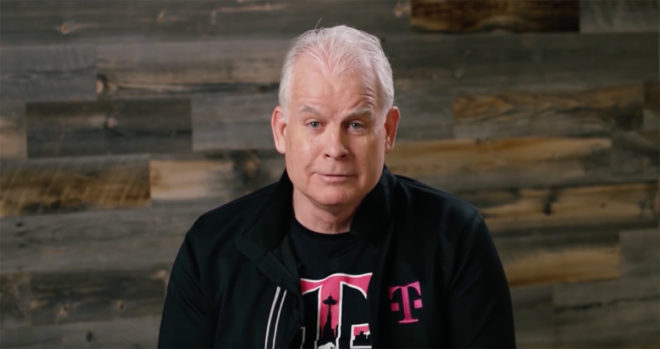 Ever since T-Mobile and Sprint announced that they have agreed to a merger deal, there have been questions about how Sprint's network would be integrated with T-Mobile's. Now T-Mo CTO Neville Ray has talked a bit more about that process.
Ray says that it would take two to three years to integrate the T-Mobile and Sprint networks if their merger deal is approved. Speaking at the MoffettNathanson Media & Communications Summit, the T-Mobile CTO said that the process would look similar to T-Mobile's integration with MetroPCS and that T-Mo would use the same "secret sauce" that it used to migrate MetroPCS customers to integrate Sprint customers to its network.
Ray went on to say this about integrating the T-Mobile and Sprint networks:
"You identify the anchor network as we would call it, which is the T-Mobile network. You build and light up all of the spectrum assets of the company on that combined network. You add some scale to it, some density in key markets from the other network where it makes sense to avoid building that cost in over the following years.

"And then you start to migrate customers across from the Sprint network onto the New T-Mobile network. That sounds very simple and the beautiful thing is it actually is pretty simple if you go at it that way."
Ray went on to say that there are more than 20 million Sprint customers with phones that are compatible with T-Mobile's network and that T-Mo and Sprint estimate that their deal will get approval from regulators in Q2 2019.
This all lines up with what T-Mobile and Sprint have said about their integration before. The companies have said that they aim to use T-Mobile as the anchor network and increase network density and coverage with select Sprint "keep" cell sites. They will deploy 2.5GHz spectrum on T-Mobile sites and the full T-Mo spectrum portfolio on Sprint "keep" while aggressively migrating CDMA voice to VoLTE.
T-Mobile and Sprint have also said that with their combined spectrum resources, they'll have "the breadth and depth to create the first nationwide 5G network." The network would use T-Mobile's low-band and mmWave spectrum along with Sprint's mid-band airwaves for its network.
Source: FierceWireless