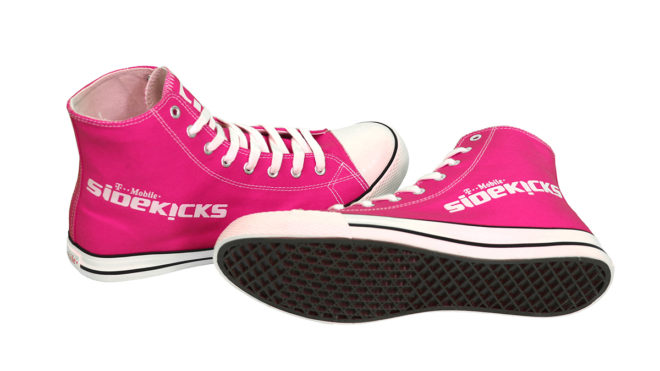 T-Mobile has followed last year's T-Mobile Onesie with another piece of April Fools' Day clothing.
The T-Mobile Sidekicks are inspired by the iconic T-Mobile Sidekick smartphone. Rather than a phone with a QWERTY keyboard and a flip-out screen, these are magenta Converse Chuck Taylor sneakers with smartphone features like a heavy duty "stepscreen", a camera built in to the toe so that you can use your leg as a selfie stick, and retractable "lacebuds" to let you listen to music.
Like Android and iOS smartphones, the T-Mobile Sidekicks have their own built-in assistant. The "No BS Assistant" is voiced by T-Mo CEO John Legere and can call your contacts, give you directions, and more when you use the phrase "Hey Sidekicks".
Much like T-Mobile actually sold its T-Mobile Onesie last April Fools' Day, T-Mo will sell these Sidekicks, too. They'll just be normal sneakers, though, so don't order thinking you'll get your very own John Legere digital assistant. Pricing for the T-Mobile Sidekicks is set at $65, and you can pre-order a pair of your own right now. Pre-orders will close on April 15, and T-Mo estimates that orders will ship on May 7.
John Legere has been known to rock some magenta Converse Chuck Taylors, and now you can get your own pair of T-Mo-branded Chucks. This April Fools' joke will probably make some people clamor for a real, updated version of the Sidekick smartphone, but it's unclear if that'll ever happen. For now you'll just have to settle for showing your Sidekick love with a pair of Sidekicks.
Are you going to get a pair of T-Mobile Sidekicks?
Source: T-Mobile (1), (2)