This is turning out to be a big week for Apple, because just two days after unveiling a new iPad, the Cupertino company has also released a major software update.
iOS 11.3 is now available for download. To install it on your iPhone, iPad, or iPod touch, just go to Settings > General > Software Update on your device.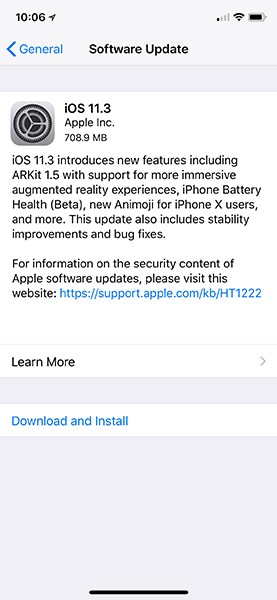 The update to iOS 11.3 brings with it several new features. Perhaps the most notable is the Battery Health feature, which will tell you whether or not your iPhone's battery is at maximum capacity and its peak performance. Battery Health can also tell you if your phone's performance is being throttled due to its battery's age, and if it is, let you disable that feature at the risk of encountering unexpected shutdowns.

iPhone X owners are getting some new Animoji with iOS 11.3 — a dragon, a bear, a skull, and a lion — and the update also brings ARKit 1.5, which should enable much-improved augmented reality experiences on iOS devices. Another new feature is Business Chat, which will let you chat with participating businesses and do things like order products in the Messages app.
Health Records is another big feature of iOS 11.3. With it, you can see all of your health data in one place, including the info from participating hospitals and clinics. You can also get notifications about lab results and medications. All of the data in Health Records is encrypted and requires a passcode to access.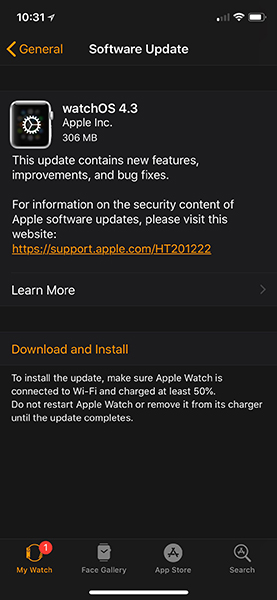 If you've got an Apple Watch to go along with your iPhone, then you've got another update to download today. Apple has released watchOS 4.3, which includes features like portrait Nightstand mode and the ability to control music being played on your iPhone with the Music app on the Apple Watch. You can also control playback and volume of the HomePod.