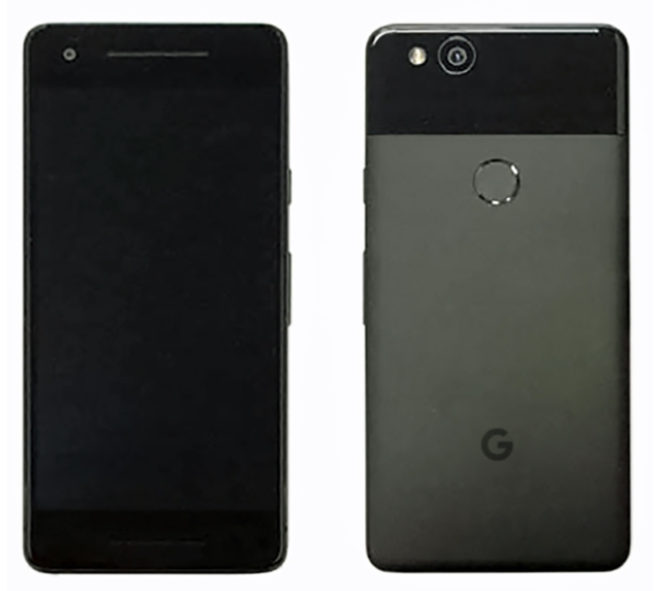 One month after the Google Pixel XL 2 appeared in leaked renders, the smaller Pixel 2 has leaked.
Images of what's said to be the Google Pixel 2 have been shared by VentureBeat. The back of the phone looks similar to the Pixel XL 2, including a smaller rear glass panel, a larger camera lens, and a fingerprint reader below that glass panel.
Around front is where things get a bit different. The smaller Pixel 2, which is said to be codenamed Walleye and made by HTC, doesn't have the slim bezels like its larger (and LG-made) Pixel XL 2 sibling. There is some good news regarding the front of the phone, though as today's report says that the Pixel 2 will offer front-facing speakers.
Another new feature that's rumored to be coming to the Pixel 2 is squeezable sides. This feature was known as Edge Sense on HTC's U11, letting you squeeze the sides of the phone to perform actions like launching the camera and taking a photo.
The bad news is that while there are a couple new features included with this Pixel 2, there's one notable missing feature, too. It's said that both this Pixel 2 and the Pixel XL 2 will not have 3.5mm headphone jacks like the original Pixel phones.
There's no word yet on when the Pixel 2 and Pixel XL 2 might be officially revealed. Google announced the original Pixel phones in early October last year, so it's possible that we'll meet these new models in two months' time.
If today's report holds true, the new Pixel 2 could be a bit of a mixed bag of an upgrade compared to the original Pixel. The slightly redesigned body and front-facing speakers would be nice additions, but I'm sure there will be some folks bummed out that the smaller Pixel 2 won't have the slim bezels of the Pixel XL 2. Plus, there will probably be even more people disappointed by the Pixel 2's lack of a 3.5mm headphone jack.
Based on what we've seen of them so far, are you interested in the Pixel 2 of Pixel XL 2?
Source: VentureBeat