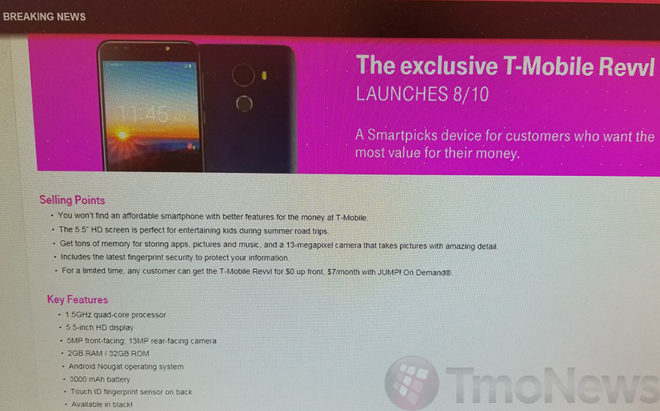 UPDATE: T-Mobile's Revvl support pages have gone live ahead of the launch. Spotted by Android Police, the pages include clear images of the Revvl as well as its full spec list. All of the specs listed below are confirmed, as is the inclusion of a microSD slot.
ORIGINAL: It's been a few months since we've heard anything about the T-Mobile Revvl, which is rumored to be T-Mobile's new own-brand phone. That's changing today.
T-Mobile is planning to launch the Revvl on August 10th, according to an image sent to TmoNews. The only pricing details that we've got so far are that the T-Mobile Revvl will cost $0 down and $7 per month with JUMP! On Demand "for a limited time."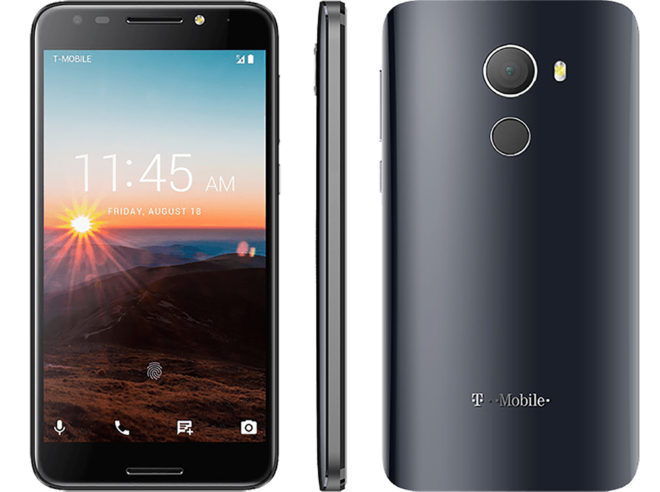 Today's leak also confirms many of the T-Mobile Revvl specs that we've heard previously and adds a few more. The Android Nougat-powered Revvl will feature a 5.5-inch HD display, 13-megapixel rear and 5-megapixel front cameras, a quad-core processor, 2GB of RAM, 32GB of storage, and a 3000mAh battery. Around back there's a fingerprint reader below the camera.
While the Revvl doesn't have the most high-end spec list we've ever seen on an Android phone, it looks like it could be a solid option at its rumored $7 per month price. The device is also notable because it's a T-Mobile own-brand phone, which is rumored to be made by TCL, so we could see the Revvl get a strong push from T-Mo, too.
With a rumored launch that's six days away, it may not be long before we officially meet the T-Mobile Revvl and learn how it performs. Stay tuned.
Thanks, tipster!