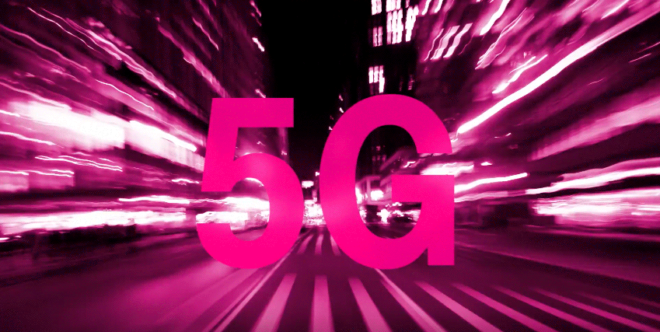 T-Mobile's been talking quite a bit about its 600MHz spectrum since the auction for those airwaves came to an end last month, and today T-Mo revealed more of its 600MHz plans.
T-Mobile announced today that it will use some of its newly acquired 600MHz spectrum for its 5G network. It also has 200MHz of 28/39GHz bands that covers nearly 100 million people in major metro areas and "an impressive volume" of mid-band spectrum for 5G use. The goal is to offer a 5G network that has both reach and offers the high-speeds that people will expect from 5G.
"There's no such thing as '5G spectrum,' and in the next decade we'll see everything moving to 5G," T-Mobile CTO Neville Ray said. "Nationwide Mobile 5G will require both high-band AND broad low-band coverage, and having unused nationwide 600 MHz spectrum means T-Mobile is in an ideal position to deliver."
T-Mobile's goal is to begin deploying 5G coverage in 2019, and it hopes to have nationwide coverage in 2020. That's definitely a ways off, but there's still work to be done with regard to 5G standards, new chipsets, equipment, and so on. Companies like Ericsson and Nokia have committed to helping T-Mobile deploy 600MHz and 5G coverage.
In the mean time, T-Mobile also plans to use some of its 600MHz coverage for 4G LTE. It'll begin deploying that coverage this year, and T-Mo expects to have a 600MHz-capable Samsung device on store shelves in time for the holidays.
Source: T-Mobile (1), (2)