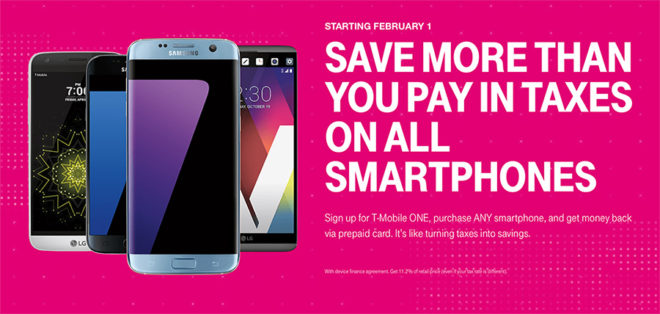 After making the monthly bill more straightforward, T-Mobile is now aiming to do the same with phone pricing.
Starting February 1, T-Mobile will cover the cost of sales tax on any new smartphone you buy. Specifically, T-Mo will give you 11.2 percent (11.55 percent in Puerto Rico) of your phone's price on a prepaid MasterCard card. This offer includes ever smartphone that T-Mobile sells.
T-Mobile's new deal will be available to both new and existing customers on a T-Mobile One or Simple Choice Unlimited 4G LTE plan. To get your new phone's tax covered, you'll need to buy the device on an Equipment Installment Plan (EIP) and then submit your account info and the promo code 17DEVICECREDIT on T-Mobile's promos website. Your prepaid MasterCard card will then be mailed to you.
One other detail worth noting is that this is a limited time offer.
While T-Mobile's offer to cover the sales tax on your phone isn't quite as simple as the all-in T-Mobile One plan, which just builds the taxes into the cost that you see advertised, the deal does mean that it'll be like you didn't pay sales tax in the end. So if you're on a T-Mobile One plan or Simple Choice Unlimited 4G LTE plan and have been thinking about upgrading to a new device, now may be the time to do it.
Source: T-Mobile