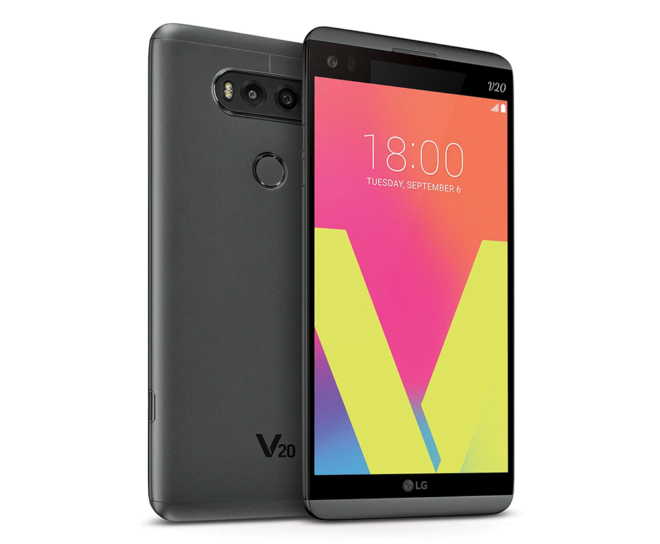 After announcing its LG V20 launch date earlier in October, T-Mobile today kicked off pre-orders for the new Android flagship.
The LG V20 is available for pre-order at a price of $49.99 down and $30 per month for 24 months. If you'd prefer to buy the V20 using JUMP! On Demand, expect to pony up $0 down and $34 per month for 18 months. Full retail price for T-Mobile's V20 is set at $769.99.
If you'd like to make that pricing a bit lower, you can trade in a smartphone. T-Mobile will give at least a $200 credit when customers trade in any working 4G smartphone. This offer is available for a limited time.
LG V20 buyers can also get a free pair of Beoplay H3 headphones worth $149. Like the trade-in offer, this gift is available for a limited time.
Finally, T-Mobile is running a Tablet on Us promo with the LG V20 that'll give you an LG G Pad 8.0 or LG G Pad F 8.0 free with a 24-month finance agreement when you buy the V20. A postpaid phone plan and 1GB or higher mobile internet plan are required for the free tablet.
The LG V20 will be in T-Mobile stores on October 28. The flagship Android 7.0 phone comes with a 5.7-inch 2560×1440 display and a secondary 160×1040 display above that, 16-megapixel standard and 8-megapixel wide angle cameras on its rear, a Quad DAC for improved audio, Snapdragon 820, and 4GB of RAM. It's got 64GB of built-in storage and a microSD slot for adding more storage, and a removable 3,200mAh battery.
Also of note is that the LG V20 is the first T-Mobile phone to support AWS-3 spectrum, aka LTE band 66. T-Mo will use this spectrum to continue building out its 4G LTE network.
As he has with other recent flagship smartphone releases, T-Mobile product guy @Askdes has put together a special unboxing video to celebrate the arrival of the LG V20. The video was shot using the LG V20 and is in the spirit of the Halloween season. You can check it out below.