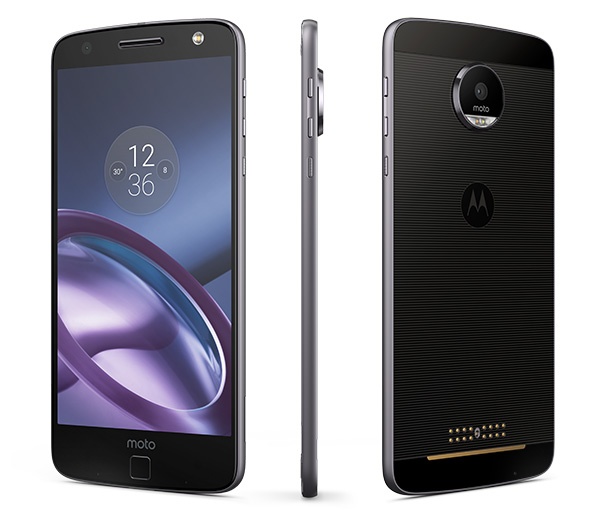 UPDATE: Support for T-Mobile Wi-Fi Calling seemed unlikely given Motorola's statement below, but now the company has confirmed that the Moto Z will not support Wi-Fi Calling on T-Mo.
After debuting in June, the unlocked Moto Z is finally available for pre-order.
Motorola is now accepting pre-orders for the unlocked GSM version of the Moto Z. As of this writing, the Moto Z's estimated delivery date is September 30.
This Moto Z is similar to the one that launched at Verizon in July, but without any sort of Verizon branding. It supports Moto Mods, which are modules that magnetically attach to the back of the device. There are simple back shell pieces made of nylon, wood, and leather for $19.99, Power Packs with added battery power from $59.99, a JBL SoundBoost speaker for $79.99, an Insta-Share Projector for $299.99, and a Hasselblad True Zoom camera module that's available for pre-order for $299.99.
When it comes to raw specs, the Moto Z is running Android 6.0.1 on a 5.5-inch 2560×1440 AMOLED display. It's got 13-megapixel rear and 5-megapixel front cameras, a Snapdragon 820 processor, 4GB of RAM, 64GB of storage, a microSD slot for adding up to 2TB more storage, and a 2600mAh battery. There's also a fingerprint reader below the Moto Z's display.
The unlocked Moto Z supports GSM 850/900/1800/1900 and HSPA+ 850/900/1700/1900/2100. Its LTE support includes bands 1, 2, 3, 4, 5, 7, 8, 12, 17, 20, 25, 28, 38, 40, and 41. When asked about T-Mobile band 12 LTE, VoLTE, and Wi-Fi Calling support, Moto told me that the Z "will support B12 and VOLTE."
The Moto Z has just about every feature that you'd expect for a flagship in 2016, but it's also facing some stiff competition in the form of the Galaxy Note 7, iPhone 7 Plus, and LG V20. Plus, those phones are being sold by T-Mobile, so they can be purchased with EIP or JUMP! On Demand. It is nice to have the option of getting an unlocked Moto Z in the US, though, and if you're feeling the Z and its Moto Mods, you can now get one of your very own.
Source: Motorola