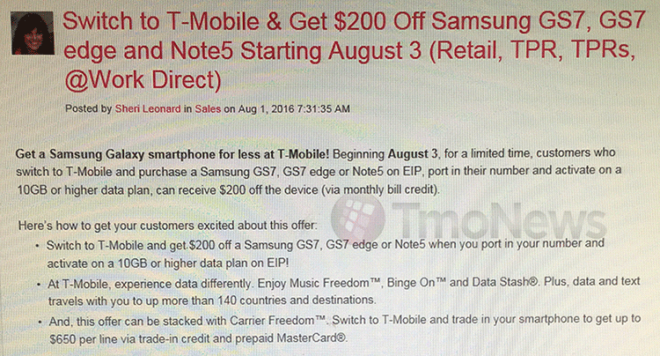 The Samsung Galaxy Note 7 will make its official debut tomorrow, and when it does, it'll become the new star of Samsung's Android lineup. That means that we'll probably start to see more discounts on the Galaxy Note 5, S7, and S7 edge, and T-Mobile may have a promotion planned for the day after the Note 7's debut.
An internal T-Mobile memo shows that a Samsung Galaxy sale may launch on August 3. With this promo, consumers that switch to T-Mobile will get $200 off the Galaxy S7, Galaxy S7 edge, or Galaxy Note 5. The promo will be available "for a limited time."
To qualify for this deal, you'll need to port your number in to T-Mobile and activate your new phone on a 10GB or higher data plan. You'll also need to buy your GS7, GS7 edge, or Note 5 on an EIP. Finally, this internal memo points out that the $200 taken off the price of the GS7, GS7 edge, or Note 5 will come via monthly bill credit.
The Galaxy S7, S7 edge, and Note 5 may not be the newest phones in Samsung's lineup, but they're still solid Android devices with high-end specs. This deal could be a good push for folks that've been thinking about jumping ship to T-Mobile, as they can get a sizable discount on a well-specced Android to use on their new carrier.
Thanks, anonymous!