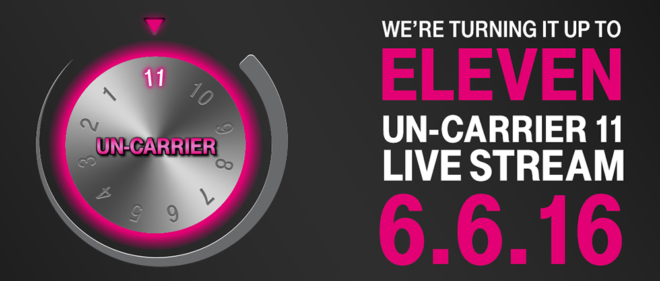 It's official: The next Un-carrier move is coming next week.
T-Mobile announced today that Un-carrier 11 will be announced at 1:00 pm ET on Monday, June 6. The event will be live streamed, so everyone can find out exactly what T-Mo's next Un-carrier move is together.
As for what that move might be, T-Mobile says that it's "turning it up to eleven," and John Legere specifically called that out as a hint. A past rumor suggested that Un-carrier 11 will be about customer appreciation. It's said that an app called T-Mobile Tuesdays could offer subscribers a Domino's pizza, Wendy's Frosty, and Vudu movie download every week, as well as the chance to win movie tickets, gift cards, and more. Additionally, the rumor claimed that during the two weeks following the Un-carrier 11 event, T-Mo subscribers will have the chance to get quarter-stock in T-Mobile.
With just a few days to go before the official Un-carrier 11 announcement, what do you think T-Mobile is cooking up?
Source: T-Mobile