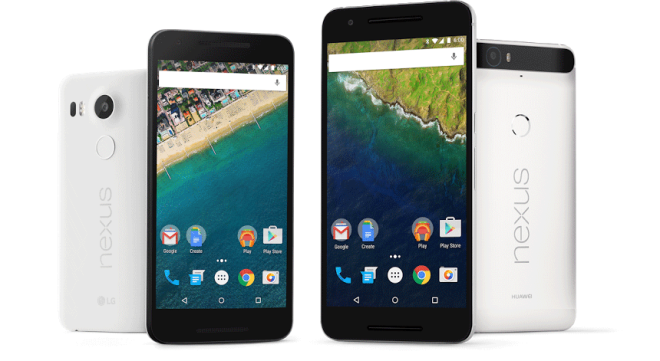 T-Mobile may not sell the Nexus 5X or Nexus 6P, but now that they work with T-Mo's band 12 LTE, some folks may want to buy one of Google's flagship Nexus phones. And starting today, those people can save some money on their purchase.
The Nexus 5X and Nexus 6P are now being discounted by $50 in the Google Store. With the sale price, the 32GB Nexus 6P is priced at $449, the 64GB model is $499, and the capacious 128GB version is $599. If you'd prefer the smaller Nexus 5X, you can get the 16GB model for $299 or the 32GB version for $349. Google's discounts will be available from April 15 through May 6.
There are lots of other retailers offering the same $50 discount on the Nexus 6P and 5X, like Amazon, Best Buy, B&H Photo Video, and Newegg, and some are sweetening the sale with other goodies. For example, Newegg is offering a a free case and $50 gift card with Nexus 6P purchases, and Best Buy is also offering a $50 gift card with each Nexus 6P purchase. B&H Photo Video is throwing in a free selfie stick and $25 gift card for Nexus 5X buyers, while Nexus 6P buyers get a free selfie stick and a free $50 gift card.
While there are several shiny new Android flagships on store shelves, the Nexus 6P and Nexus 5X are still nice phones, especially if speedy software updates are important to you. And if you're feeling brave or you already have another daily driver, you can also use the 5X and 6P to install the Android N Developer Preview — which just got a big update — and get an early taste of Google's next major Android release.