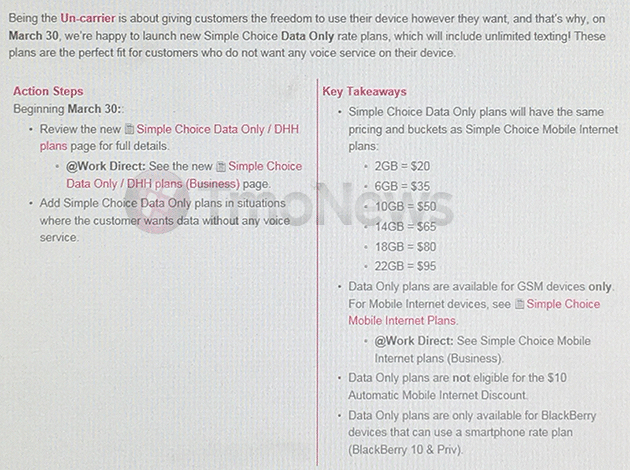 While a lot of people still make cellular voice calls, many others rely on VoIP options — like Skype — or just use text-based chat to keep in touch with others. Those folks typically have to buy some amount of voice minutes with their cell plan, but it looks like T-Mobile may soon give them another option.
T-Mobile is planning to launch Simple Choice Data-Only rate plans on March 30, according to an image shared with TmoNews. The plans will only be available for GSM devices and are not eligible for the $10 Automatic Mobile Internet Discount. The image also shows that BlackBerry devices will need to be BB10 or a Priv in order to use the Simple Choice Data-Only plan.
Customers that are interested in a data-only plan will have several options available to them:
2GB for $20 per month
6GB for $35
10GB for $50
14GB for $65
18GB for $80
22GB for $95
In addition to your monthly data allotment, each of these data-only plans will include unlimited texting.
There is a T-Mobile prepaid plan that offers 5GB of high-speed data, unlimited text, and just 100 minutes of talk for $30 that's appealing to folks that want as few voice minutes as possible, but these Simple Choice Data-Only plans could supplant it as the go-to choice for data-centric T-Mo customers. So long as you're comfortable with having zero voice minutes, these plans offer many different bucket sizes so that you can get enough high-speed data to meet your needs.
Thanks, anonymous!