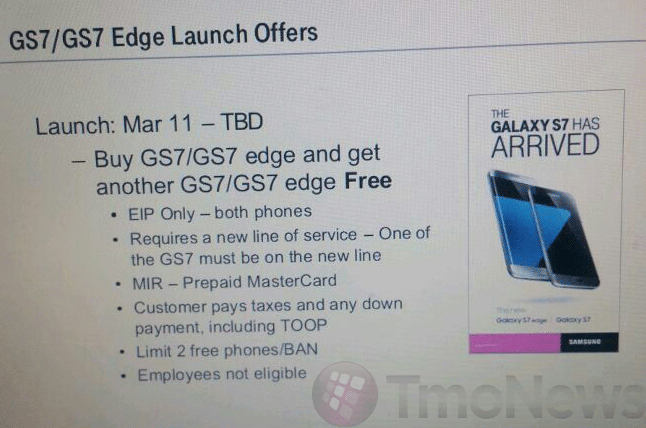 The Samsung Galaxy S7 and S7 edge are now just four days away from hitting store shelves, and when they do launch, T-Mobile will have an offer ready to go along with them.
A source just sent in the image you see above, which reveals that T-Mobile will kick off a Buy One, Get One Free promo for the Galaxy S7 and S7 edge on March 10. To qualify, you'll need at least one new line of service, and one of the phones will need to be on that line. Both phones will need to be purchased on an Equipment Installment Plan, and you will have to pony up any taxes and down payment on the free device. There's also a mention of a prepaid MasterCard mail-in rebate.
Some other tidbits worth noting about this deal include the limit of two free phones per account and the fact that employees aren't eligible for the offer. Sorry, T-Mobile employees.
The Galaxy S7 and Galaxy S7 edge are two of the top-end smartphones on the market, and so being able to get one for free will be a pretty nice deal. Of course, you'll need to find someone that wants to sign up for a new line to take advantage, but if you know someone looking for some new cell service, this could be a good way to get them (or you both) to join the Magenta side. With this offer expected to launch on March 11, we should hear more about it later this week, so stay tuned.
Thanks, Juárez75!