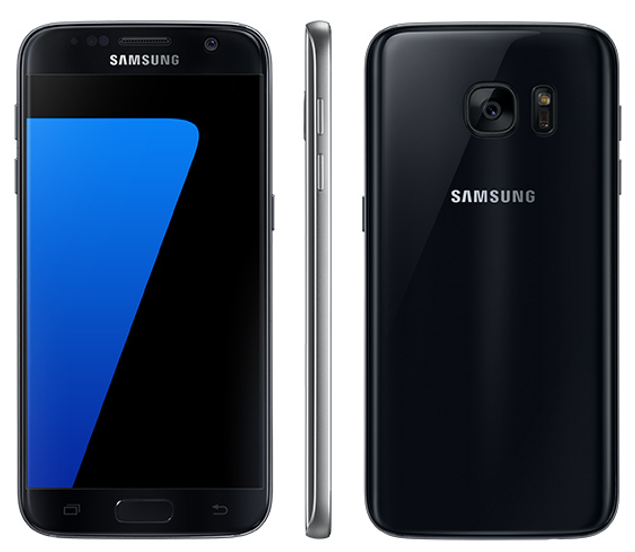 Hot on the heels of the debut of the LG G5, Samsung has taken the wraps off of its own new Android flagships.
The Samsung Galaxy S7 and Galaxy S7 edge feature designs that look similar to the Galaxy S6 and Galaxy S6 edge at first, but they've actually got some small refinements to make them better. The rear cameras of both phones are now very nearly flush with their bodies, meaning that one side won't stick up when you set them down. Samsung has also curved the edges of the backs of the phones, which should make them a bit more comfortable to hold.
Another notable improvement made to the GS7 and GS7 edge is IP68 protection. That means that they're dust and water resistance, letting them survive being submerged in water up to 1.5 meters (nearly 5 feet) of water for up to 30 minutes.
In terms of raw specs, both phones are packing 2560×1440 Super AMOLED panels, with the GS7's measuring in at 5.1 inches and the GS7 edge's coming in at 5.5 inches. Samsung has included an Always-On Display feature on both phones that will let you see the date, time, and your notifications without having to actually turn on the display.
Photography is another big feature of Samsung's new phones. They've both got 12-megapixel rear shooters that, while they've got fewer pixels than last year's phones, Samsung says that they're much improved. Both cameras use Dual Pixel tech that Samsung says will give the GS7 and GS7 edge "vastly improved autofocus performance." The cameras also have 1.4um pixels and an f/1.7 aperture to let them take in 95 percent more light than the GS6 and GS6 edge, which should translate into better low-light camera performance. The front cameras of both the GS7 and GS7 edge are 5-megapixel shooters with f/1.7 apertures.
Samsung's new phones will be powered by octa-core Snapdragon 820 processors in the US, and they'll both tout 4GB of RAM and 32/64GB configurations as well. If that's not enough storage for you, I've got good news, because Samsung has included microSD slots in the GS7 and GS7 edge after leaving them out of its GS6 phones.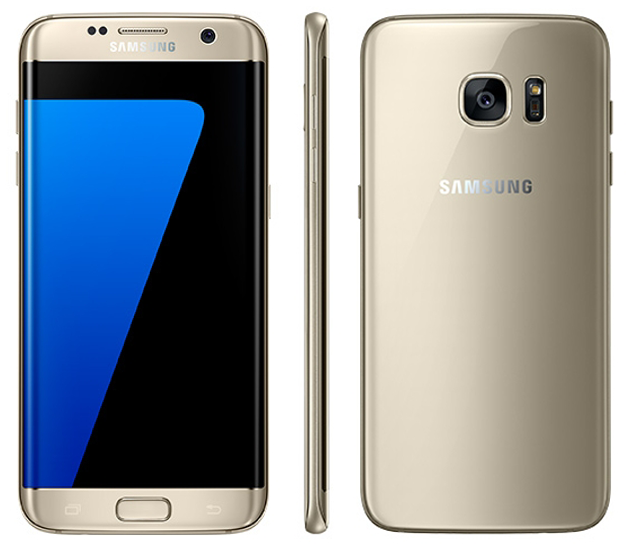 Unlike the microSD slot, though, removable batteries aren't making a comeback here. However, Samsung has beefed up the batteries of the GS7 and GS7 edge from their predecessors, giving the GS7 a 3000mAh battery and the GS7 edge a 3600mAh battery. Both phones can be charged wirelessly or over a wired connection, with the latter using microUSB. No USB Type-C here.
On the software side of things, both the Galaxy S7 and S7 edge are running Android 6.0 beneath a customized user interface. Samsung says that it's tweaked its custom UI to be "simple and soft." App icons are all now inside of rounded square icons to give them a more uniform look, and Samsung added black strips to the camera app so that features like the flash and timer are more visible. And on the Galaxy S7 edge, Samsung has beefed up its Edge Screen functionality to boost the size of the Edge Panel from 260 pixels to 550 pixels. With that added space, users will see more apps in the Apps Edge. You'll also be able to customize the location, size, and transparency of the Edge Handle used to access the Edge Panel.
T-Mobile has confirmed that it'll carry both the Galaxy S7 and S7 edge, with pre-orders starting February 23. Customers that do pre-order one of Samsung's new phones "on a qualifying plan" will get a free Samsung Gear VR, a 6-pack of VR games, and a free year of Netflix. The phones are expected to officially launch on March 11, but T-Mo plans on having demo units in stores before that date.
As for pricing, the 32GB Galaxy S7 will cost $0 down, 23 payments of $27.92, and one payment of $27.83. That works out to a full retail price of $669.99. Meanwhile, the 32GB Galaxy S7 edge will cost $0 down, 23 payments of $32.50, and one payment of $32.49. That's a full price of $779.99. If you'd prefer JUMP! On Demand, you'll be able to get the GS7 for $0 down and $28 per month, while the GS7 edge will be $0 down and $32.50 per month. It's being reported that the US is only getting the 32GB models of the two phones, so you'll need to take advantage of that microSD slot if you want more storage.
Finally, your color options for the GS7 will include Black Onyx and Gold Platinum, while the GS7 edge will be available in Black Onyx, Silver Titanium, and Gold Platinum.