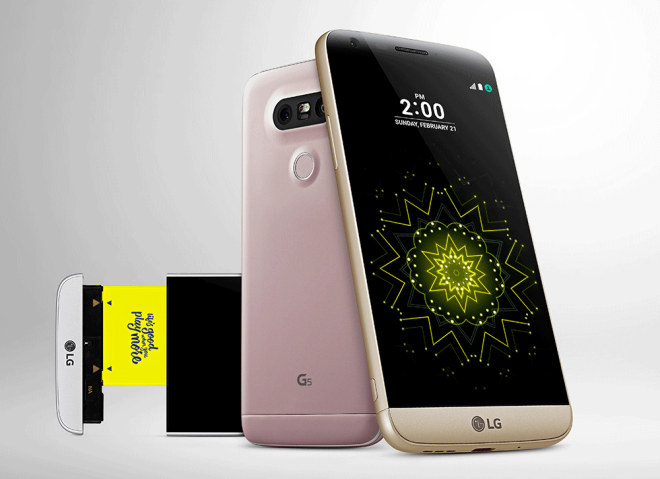 UPDATE: T-Mobile has confirmed that they will launch the LG G5. However, specific availability and pricing details won't be revealed until later.
MWC 2016 may not officially start until February 22, but many companies are announcing there new smartphones before the show gets underway. That includes LG, who just revealed its new G5.
The LG G5 switches things up a bit from last year's LG G4. Rather than sporting plastic and leather swappable backs, the G5 offers a full metal design. It's still got the removable battery that LG has touted so heavily in past G models, though, thanks to its modular design. Simply pop off the bottom of the phone and the 2800mAh battery will slide out.
That's not all that you can do with the LG's pop-off bottom piece. LG is introducing the LG Cam Plus, a camera module that gives you some added grip as well as physical buttons for shutter, zoom, video recording, and more. The camera module also includes a 1200mAh battery, giving your G5 some extra juice.
The other module announced by LG today is the Hi-Fi Plus with B&O Play. This digital audio chip can be plugged into the G5 to add high-quality video. LG says that the Hi-Fi Plus supports 32-bit, 384KHz audio. What's more, you can actually connect the Hi-Fi Plus to a different smartphone or PC if you want high-quality audio elsewhere.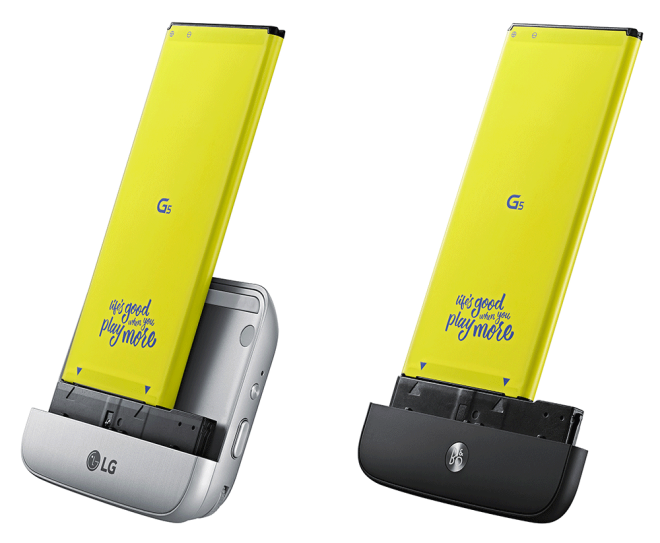 Moving up from the bottom of the LG G5, there's a 5.3-inch 2560×1440 IPS Quantum display with an Always-On feature that can show the time, date, and battery status continuously. LG promises that this feature won't kill your battery, though. LG says that the Always-On feature only activates one-third of the G5's display, and that the feature only uses 0.8 percent of your battery per hour.
Continuing our trip up the LG G5's body, there's an 8-megapixel front-facing camera up above the G5's display. And then flipping around to the back, there are two cameras on the back of the phone. The main camera is a 16-megapixel sensor, and then there's a second 8-megapixel sensor with a 135-degree wide-angle lens. LG has added several photo-centric software features to the G5 as well, including Pop-out Picture for combining images taken with the regular and wide-angle lenses and Auto Shot, which "automatically captures the perfect selfie shot" when the G5's camera recognizes a face in its view.
Diving inside the G5's metal body, there's an octa-core Snapdragon 820 processor, 4GB of LPDDR4 RAM, 32GB of built-in storage, and a microSD slot for adding up to 2TB of additional storage. Rounding out the G5's feature set is Android 6.0, NFC, Bluetooth 4.2, Wi-Fi 802.11a/b/g/n/ac, USB Type-C, and Quick Charge 3.0 support.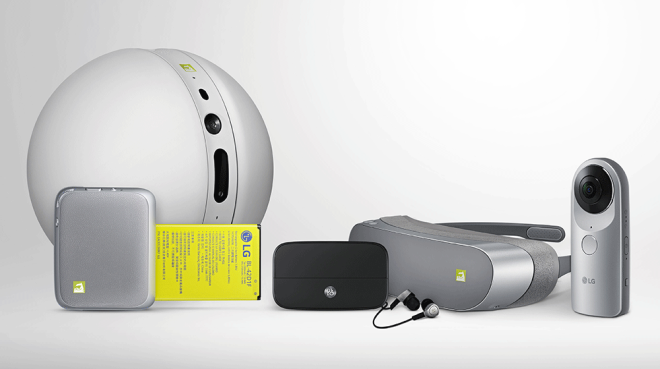 Also announced today alongside the G5 are its "friends," which are companion devices for LG's new phone. In this group of friends is the LG 360 Cam, a 360-degree camera with two 13-megapixel cameras, 1200mAh battery, 4GB of storage, and a microSD slot. There's also the LG 360 VR goggles that connect to the G5 and work with content captured on the LG 360 Cam and Google Cardboard, an LG Rolling Bot that has an 8-megapixel camera and can be controlled with the G5, and LG Tone Platinum Bluetooth headphones.
The LG G5 will be offered in Silver, Titan, Gold, and Pink color options. T-Mobile hasn't yet announced its plans for carrying the G5, but it seems likely that they will. Not only has T-Mo sold the past few LG G flagships, but both AT&T, Sprint, Verizon, and US Cellular have already confirmed that they'll be carrying the G5, making it likely that all the major US carriers will have it. If T-Mobile does announce plans to carry the G5, I'll be sure to update you.
The G5 is quite a change from the G4, offering a full metal body and ditching the rear-mounted volume buttons that several of the past LG flagships have offered. The good news for fans of removable batteries is that LG has managed to keep the user-swappable battery feature that it's touted in past flagships as well as the microSD slot.
Perhaps the most interesting feature of the G5 is its modular design that lets you pop off the bottom piece of the phone and add new modules. The Cam Plus seems like it might have more widespread appeal, giving users improved camera functionality as well as longer battery life. The question is, will these modules actually be a must-have feature for folks that pick up the G5. They look like they add nice functionality, but will consumers be compelled to spend extra cash on them and then like them enough to swap them. Price could play a big role in a G5 owners decision about buying modules, and unfortunately, LG hasn't yet revealed pricing for the G5's add-ons.
Source: LG