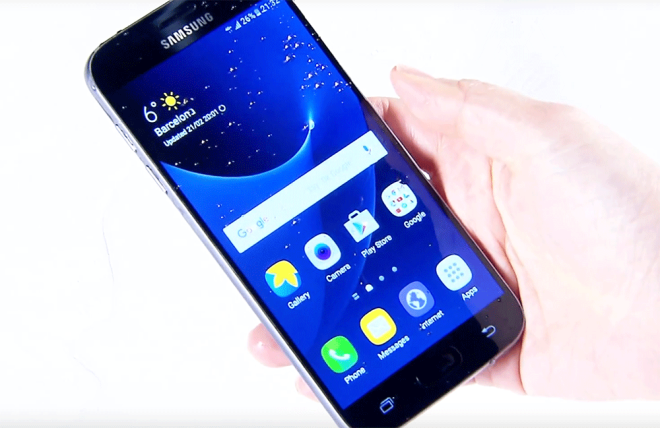 Now that the Samsung Galaxy S7 and Galaxy S7 edge are officially official, we've just got to wait for them to hit stores and our hands. To help pass the time, T-Mobile has posted an unboxing video for the Galaxy S7, but this one is a little different than your normal unboxing video.
The clip shows T-Mobile product guy Des Smith unboxing the Galaxy S7 underwater. Because the GS7 is IP68 rated, it can survive being submerged in one and a half meters (a little less than five feet) of water for up to 30 minutes. Unlike the GS7, Des needs to breathe if he's going to be underwater, and so it's a bit tough to understand what he's saying with his snorkel. The good news is that there are subtitles for the whole clip.
In addition to giving us a peek at the Galaxy S7 packaging and its contents, the video is good for a few laughs as some of the stuff inside the GS7's box float away. The clip is a short one, so it's worth a look.
As a reminder, the Galaxy S7 and S7 edge will go up for pre-order tomorrow, February 23, ahead of their March 11 launch. Pre-order customers (or folks that buy before March 18) will get a free Gear VR and six-game pack with their new phone, and T-Mobile says that it'll give early adopters a free year of Netflix, too.
Here's how the pricing for Samsung's new flagships will break down:
32GB Galaxy S7
EIP: $0 down, 23 payments of $27.92 each, 1 payment of $27.83 ($669.99 full retail)
JUMP! On Demand: $0 upfront and $28 per month
32GB Galaxy S7 edge
EIP: $0 down, 23 payments of $32.50 each, 1 payment of $32.39 ($779.99 full retail)
JUMP! On Demand: $0 upfront and $32.50 per month