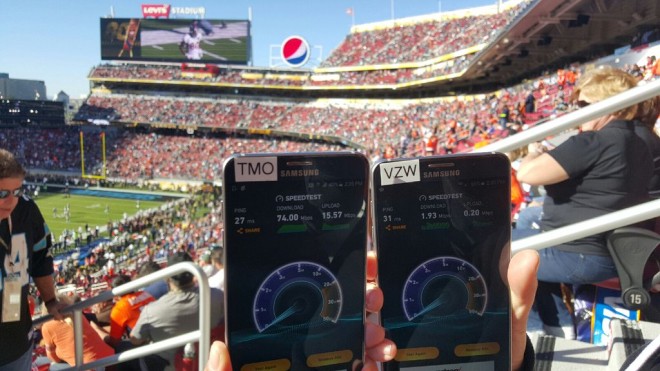 Now that Super Bowl 50 has been played and T-Mobile's ads have been revealed, it's time to take a look at the Big Game and see how the carriers performed.
T-Mobile CTO Neville Ray today put up a blog post detailing T-Mo's Super Bowl performance. Ray says that T-Mobile customers at Levi's Stadium used five times more data than they did during last year's Super Bowl, and T-Mo confirmed to me that its customers' total data usage at the Big Game was 2.1TB. To compare, Verizon says its customers used 7TB of data during the game and AT&T reports that 5.2TB of data was used. I haven't yet seen Sprint report its data usage for the game.
Of all the data used by T-Mobile customers at the game, 29 percent was for social media posts — including 166,700 Instagram photos and more than 119,250 Snapchat snaps — and another 29 percent was used for video. Some folks even took some time from the game to look for love, with Ray saying that "there were even a few hundred swipes on Tinder."
@AskDes was also at the Super Bowl and took the time to record some T-Mobile speed tests to show how T-Mo's network was holding up. Some of the numbers put up include download speeds of 91.47Mbps and 51.73Mbps. According to T-Mobile's full testing, which happened at Levi's Stadium during the game, Magenta had an average download speed of 39.5Mbps.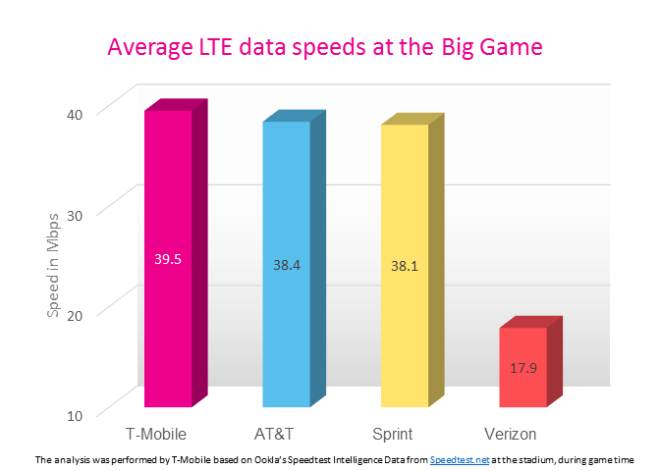 Finally, Neville Ray took some time to go after some network reports from RootMetrics and Nielsen. Ray says that in its next report, RootMetrics disabled Voice over LTE, which handles more than 40 percent of calling done on the T-Mobile network. Ray also takes aim at the drive tests performed by RootMetrics, saying that that type of testing "can't replicate real customers' real-world network experiences" and that by the time testing is done and the results are published, the data is months old.
Looking at Nielsen, which is the data used by Sprint for its claim that it has the fastest LTE network. Ray says that Nielsen testing looks at the experiences of a small group of customers based on how they use data, not on network performance.
Meanwhile, T-Mobile is continuing its #BallBusterChallenge, comparing its network to Verizon's in different cities. It was in Santa Clara, Calif., last week — where Super Bowl 50 was played — and T-Mobile went undefeated. T-Mo also edged out Verizon to claim the fastest average 4G LTE download speeds in recent OpenSignal testing, also winning fastest 3G download speeds and best 3G latency in the same report.
Source: T-Mobile