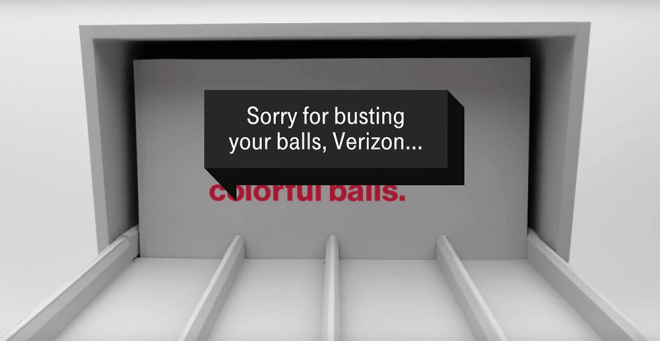 After announcing the #BallBusterChallenege yesterday, T-Mobile has now spilled some more details on where the challenge be headed and how it'll work.
The #BallBusterChallenege will kick off in Seattle, Wash., on January 26 and then travel south to Santa Clara, Calif., the week of February 1. Afterward, T-Mobile will hit up cities throughout the US, including towns "where some people might not expect to find T-Mobile's network." T-Mobile will be tweeting out details about where the #BallBusterChallenege will be headed, so follow @TMobile for up-to-the-minute challenge locations.
When the #BallBusterChallenege makes its way to a city near you, you can go take part and potentially win $100. Verizon customers over the age of 18 can show up with their phone in hand and battle it out with a T-Mobile device. There will be three categories that are compared: voice calls, texts, and data speeds. If a network experiences a blocked or dropped call, failed text delivery, or slower data speeds, it'll get a loss.
The winner will be determined by whoever side wins two of three categories. If Verizon does, the Big Red customer will get a $100 Visa Prepaid Card. But if T-Mo wins, the Verizon user will have to pose for a photo with a "network sign of shame."
If you're not a Verizon customer — which is a strong possibility since this is a T-Mobile blog — don't worry, because you can participate in the #BallBusterChallenege too. T-Mo customers can bring a friend on another network to the #BallBusterChallenege and compete in their own network battle, the winner of which will get $100.
If you've got a friend that's a Verizon user, the #BallBusterChallenege could be a win-win for you. If they take the challenge and end up winning, you could convince them to buy you lunch with the $100 that they wouldn't have won without you. And if they lose, well, you can revel in their embarrassment when they get their photo taken with a sign that reads "Verizon's network just got spanked by T-Mobile #BallBusterChallenge."
Will you try the #BallBusterChallenge if it comes to a city near you?