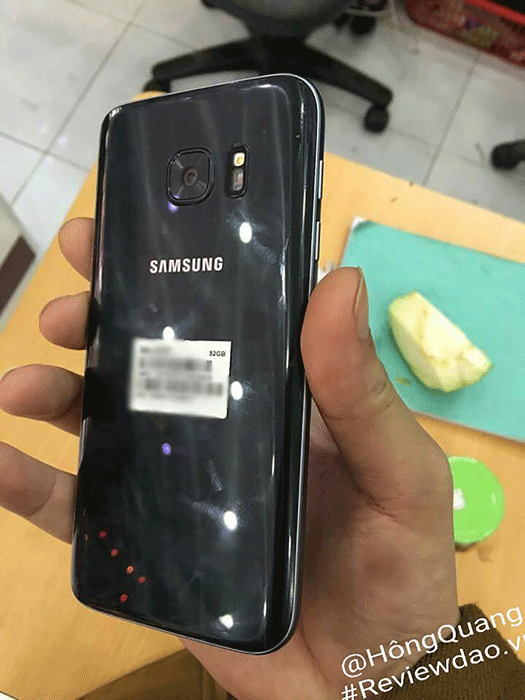 The Samsung Galaxy S7 appears to be following in the pre-announcement footsteps of many smartphones that've come before it. First we got rumors about its specs, then leaked renders, and now a photo that claims to show the GS7 in the flesh has found its way online.
Posted by Vietnamese site Reviewdao.vn, the image shows the back of a Samsung-branded phone that looks like the Galaxy S6, but with a couple of notable tweaks. First is that the rear camera on this device doesn't protrude nearly as much as it does on the GS6. In fact, it looks nearly flush. And then there are the sides of this phone's rear, which are all curved. To compare, the GS6's rear is flat.
As a refresher, the Galaxy S7 is rumored to include a 5.1-inch 2560×1440 Super AMOLED display, 4GB of RAM, 32/64GB storage options, a microSD slot for adding more storage, a 3000mAh battery, and a 12-megapixel rear camera. As for its processor, the GS7 is expected to pack an octa-core Exynos 8 Octa 8890 in some locales and an octa-core Snapdragon 820 in others (including the US). The whole package will reportedly be water resistant.
We likely won't see the Galaxy S7 made official until February 21, but the device shown in today's leak does line up with GS7 renders that've leaked previously. And because T-Mobile isn't big on putting its branding on phones, it's possible that the device you see in the photo above could look largely similar to the one that'll hit T-Mobile shelves.
Via: SamMobile
Source: Reviewdao.vn