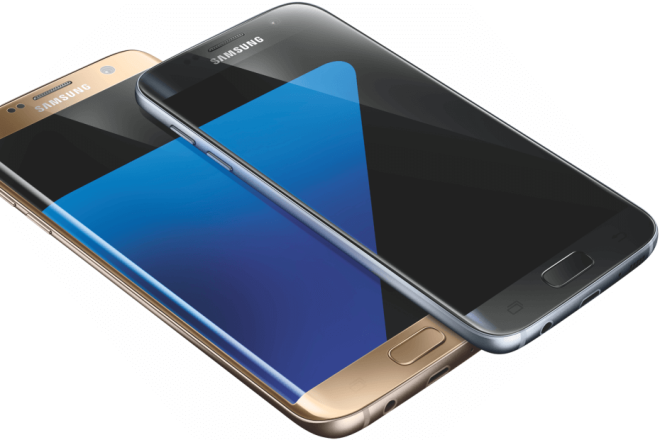 It's expected that the Samsung Galaxy S7 will make its official debut next month, but as is usually the case with highly anticipated smartphones, the GS7 has leaked out before its announcement.
Images that claim to show both the Galaxy S7 and Galaxy S7 edge have found their way online. Shared by Evan Blass on VentureBeat, the renders show two phones that look largely similar to the Galaxy S6 and Galaxy S6 edge, but with some small tweaks. Perhaps the most obvious change in these images is that the home buttons on the S7 phones are a bit more rectangular than the ones on their S6 counterparts.
Other notable tidbits about these S7 image leaks are that both phones have kept their headphone jacks and charging ports on the bottom and that the volume buttons appear to be in the same place as on the S6 models.
https://t.co/JT6X0g8sBu pic.twitter.com/J78eezrU5o

— Evan Blass (@evleaks) January 29, 2016
As far as specs go, the Galaxy S7 is expected to have a 5.1-inch 2560×1440 Super AMOLED display, while the Galaxy S7 edge is rumored to have a 5.5-inch 2560×1440 Super AMOLED screen. They're said to have different battery sizes, too, with the GS7 packing a 3000mAh battery and the GS7 edge reportedly carrying a 3600mAh battery. Rounding out these phones' spec lists are Snapdragon 820 processors, 4GB of RAM, 32/64GB storage options, microSD slots (!), 12-megapixel rear cameras and 5-megapixel front facing shooters.
As I mentioned before, it's thought that Samsung will announce the Galaxy S7 in February. The date on the phones in these images shows February 21, which is a possibility for an announce date since MWC 2016 kicks off just one day later. The GS7 is rumored to be slated for a March 11 release in the US.
So what do you think of the alleged look of the Galaxy S7? It's definitely similar to the Galaxy S6, but considering the praise that the GS6 got for its design, it makes sense for Samsung to refine that look for the GS7 rather than go for an all-new design. One notable design tweak that's rumored for the GS7 but not shown in today's leak is that the phone's rear camera will be flush with its backside rather than sticking out like on the GS6. That's one change I can get behind.
Sources: VentureBeat, @evleaks