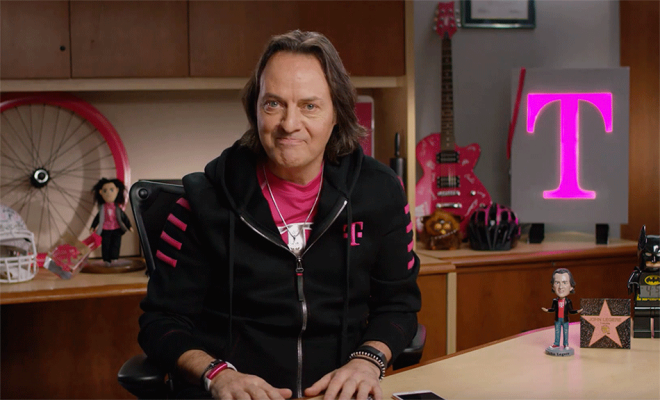 There's been a lot of noise lately about Binge On, with YouTube and the Electronic Frontier Foundation claiming that T-Mobile is throttling users with the feature. Well today T-Mobile CEO John Legere has responded to those claims with a new video.
In his response, Legere says that there are groups that are trying to confuse customers about Binge On, suggesting that they and Google are "using net neutrality as a platform to get into the news." The T-Mobile CEO says that the claims that Binge On is throttling are "bull****."
Legere defines throttling as "slowing down data and removing customer control," but he says that Binge On is neither of those things, adding that streaming video from a Binge On partner never subtracts any data from your plan. The CEO says that mobile customers typically don't need full video files, and so T-Mobile built technology to optimize video to stream at a bitrate that'll stretch mobile data consumption.
In regard to the argument that Binge On should be opt-out rather than opt-in, T-Mobile points to a BTIG Research report on Binge On. In it, the group argues "Why prevent a cost-conscious consumer the ability to use one toggle that will compress all their video and save them money rather than forcing that consumer to look for that toggle switch in each application or browser that they use?"
John Legere says that he plans to host a Twitter Q&A at around 12:00 pm PT/3:00 pm ET today to answer more questions regarding Binge On.
It's good to see John Legere and T-Mobile finally come out with a full response to all of the allegations surrounding Binge On. However, I'm not sure that critics of the service will feel that his response to the EFF's throttling claims are adequate, especially since the EFF says it was told by T-Mobile that it reduces the bandwidth available to the video and relies on the service to adapt rather than doing something like requesting a certain video resolution. As for Binge On being opt-out rather than opt-in, opponents may argue that T-Mobile could have educated customers on how to enable Binge On with one toggle rather than automatically putting everyone into the program.
In other Binge On news, T-Mobile revealed today that it's added another 14 partners to the free streaming portion of its service. They include A&E, Lifetime, HISTORY, PlayStation Vue, Tennis Channel Anywhere, FuboTV, Kidoodle TV, Curiosity Stream, Fandor, Newsy, ODK Media, Lifetime Movie Club, and FYI. T-Mo adds that there are more than 50 other streaming services that've expressed interest in becoming a Binge On partner.
So what do you think of John Legere's response to the Binge On criticisms?
Source: T-Mobile (1), (2)