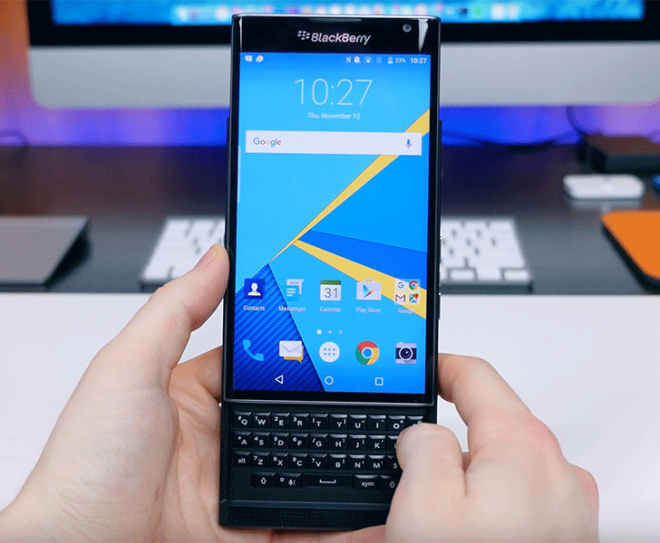 Way back in August 2015, we first heard that the BlackBerry Priv would launch at T-Mobile. And five months later, that bit of information has finally been confirmed.
BlackBerry and T-Mobile announced today that the Priv will launch at T-Mobile on January 26. Pricing hasn't been disclosed, but BlackBerry sells unlocked Priv units for $699, and so T-Mobile's asking price probably won't be too far off. The good news is that since T-Mo will be selling the Priv, you'll be able to get BlackBerry's Android phone on JUMP! or an EIP, which will let you spread the payments out rather than handing over several hundreds of dollars at once.
It's true! #BlackBerry #PRIV coming to @TMobile on 1/26. But not this version – this is special for me #IAmBatman ;) https://t.co/n9jBXWvYnY

— John Legere (@JohnLegere) January 6, 2016
Calling you on your batphone @JohnLegere. #PRIV coming soon to @TMobile pic.twitter.com/41I3YKS3lH

— John Chen (@JohnChen) January 6, 2016
If you need a spec refresher, the BlackBerry Priv runs Android 5.1.1 on a 5.43-inch 2560×1440 AMOLED display, and it's powered by a hexa-core Snapdragon 808 processor. It boasts an 18-megapixel rear camera with optical image stabilization and an f/2.2 lens, as well as a 2-megapixel front facing camera. Inside of its portrait slider frame lives 3GB of RAM, 32GB of storage, a microSD slot, and a 3410mAh battery. Oh, and it's got a physical keyboard that can double as a sort of mini capacitive trackpad.
BlackBerry has been selling the Priv direct to consumers since November, and that model even includes support for T-Mobile's band 12 LTE and Wi-Fi Calling. As I mentioned before, though, T-Mobile selling the device will enable folks to buy the Priv with JUMP! and EIP, which will make it an option for many more folks. So good on BlackBerry and T-Mobile for working together to put the Priv on Magenta's shelves.
Now that T-Mobile will sell the BlackBerry Priv, are any of you thinking about picking one up?