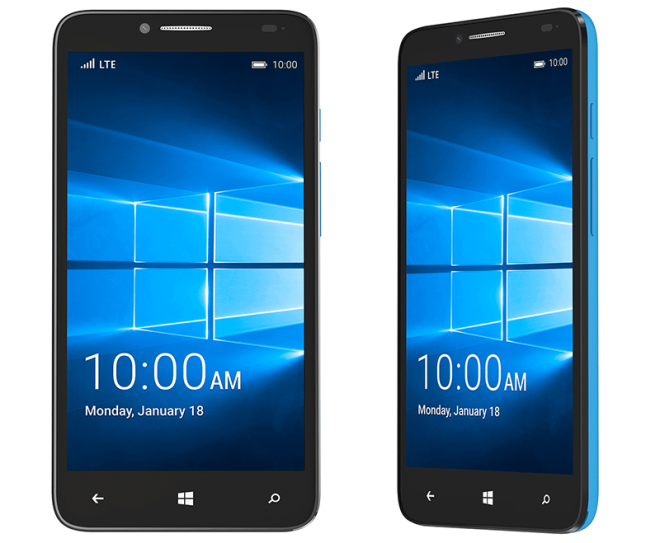 UPDATE: T-Mobile has confirmed to me that the Alcatel OneTouch Fierce XL will be sold for $0 down, 23 payments of $5.84, and 1 final payment of $5.67, or for a full price of $139.99.
Several months after T-Mobile pulled the Microsoft Lumia 640 from its shelves, a new Windows phone is coming to take its place.
The Alcatel OneTouch Fierce XL with Windows 10 Mobile will launch at T-Mobile "in the coming weeks." The Fierce XL runs Windows 10 Mobile on a 5.5-inch 1280×720 display and includes a quad-core Snapdragon processor, 8-megapixel rear and 2-megapixel front cameras, 16GB of storage that you can supplement with a microSD card, 2GB of RAM, and a 2500mAh battery.
When it comes to T-Mo-specific goodies, the Alcatel OneTouch Fierce XL supports both LTE band 12 (as well as bands 2 and 4) and Wi-Fi Calling support.
Here's what Roger Brown, T-Mobile VP of Marketing, had to say about the Fierce XL:
"We strive to provide our customers a wide selection of price points, operating systems and capabilities when it comes to choosing a smartphone, so adding the Fierce XL to our hardware line-up was a no-brainer. This will be our first Windows 10 device to hit T-Mobile stores nationwide, and since the Fierce XL is coming from Alcatel, our customers know the build quality and feature set will be top notch."
Since T-Mobile isn't officially selling Microsoft's Lumia 950 or Lumia 950 XL, the Alcatel OneTouch Fierce XL is T-Mo's first Windows 10 Mobile device. It may not be super high-end, but it will be "affordably priced," which should put this Windows 10 Mobile device within the grasp of most consumers.