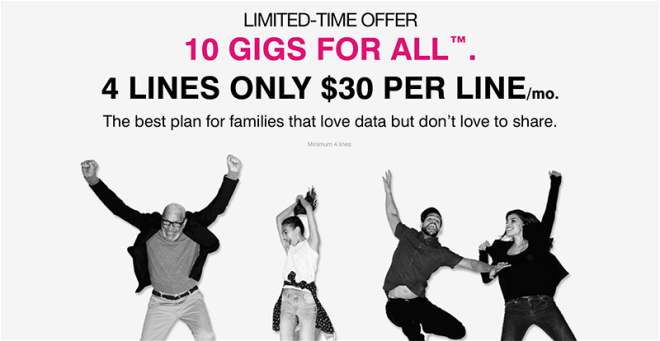 The 10Gigs4All family plan is making a comeback! T-Mobile says that starting today, customers can sign up for a family plan that includes up to 4 lines of 10GB of 4G LTE data for $120 per month. The first 2 lines are $50 each, and adding a third line is $20 more. If you'd like to add a fourth line, you can do so at no extra charge. If you've got a line that needs more LTE data, you can bump a line up to 20GB of LTE data each month for an additional $10 per line.
In addition to each line getting 10GB of LTE data, all four users will get unlimited calls and texts — including to and from Mexico and Canada — 4G LTE data in Mexico and Canada that comes out of your data bucket, rollover data, unlimited data and text in more than 140 countries, unlimited music streaming with Music Freedom, Wi-Fi Calling, unlimited international texting from the US, and unlimited in-flight texting with Gogo.
This 10Gigs4All plan originally launched over the summer, and T-Mo says that it is its most popular promo ever. As before, though, this plan will be around for a limited time, so it'd be wise to sign up sooner rather than later if you're interested in taking advantage of it. The 10Gigs4All plan is available to new and current customers and you can sign up in stores, online, and through telesales, (1‑844‑222‑1941) so you've got several ways to enroll.
Source: T-Mobile