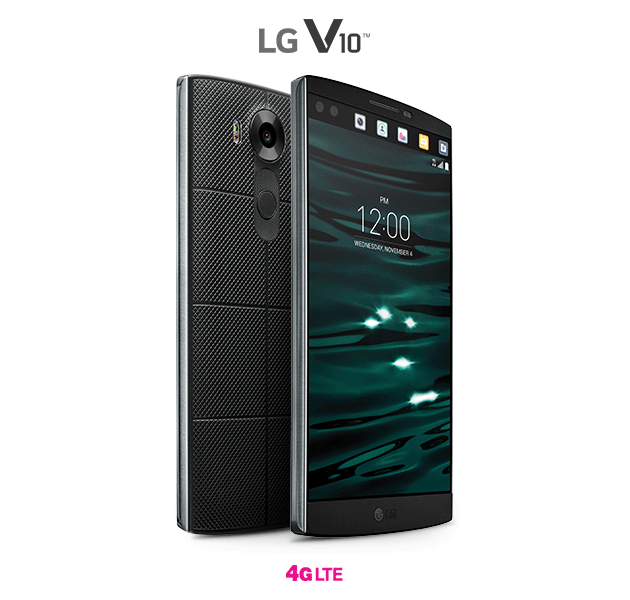 As expected, the LG V10 is now available from T-Mobile's online store. Pricing is set at $0 down and 24 monthly payments of $25, with a full retail price of $599.99. If you'd prefer the JUMP! On Demand route, you can expect to pay $0 down and 18 payments of $25 apiece for the V10.
It's worth noting that if you'd prefer to check out the V10 in person before pulling the trigger, T-Mo has said that it'll be available in stores starting Friday, October 30.
T-Mobile has also kicked off a promo that'll get you a $100 prepaid card when you buy the LG V10 and LG G Pad F 8.0. Simply buy one device on an Equipment Installment Plan, then buy the second on EIP within 30 days and you'll get your prepaid card.
It's also worth noting that T-Mobile's V10 is eligible for a free accessory promo that LG is running. If you buy an LG V10 between now and November 15, LG will give you a 200GB microSD card, an extra 3000mAh battery, and a battery-charging cradle. To get those goodies, you'll need to submit your contact info, a photo of your V10's box and IMEI, and a copy of your receipt before November 30. More details on LG's promo can be found here.
The LG V10 is the latest flagship phone from the Life's Good crew, boasting a secondary 2.1-inch display above its main 5.7-inch screen that can show info related to the date, time, weather, and battery info as well as app shortcuts and playback controls. The V10's got a hexa-core Snapdragon 808 processor, 4GB of RAM, 64GB of storage, 16-megapixel rear camera, two 5-megapixel front cameras for wide-angle selfies, and Android 5.1. And on T-Mobile, the V10 includes support for band 12 LTE connectivity.
Are any of you going to pull the trigger on LG's latest now that it's available?
Source: LG V10 on T-Mobile.com