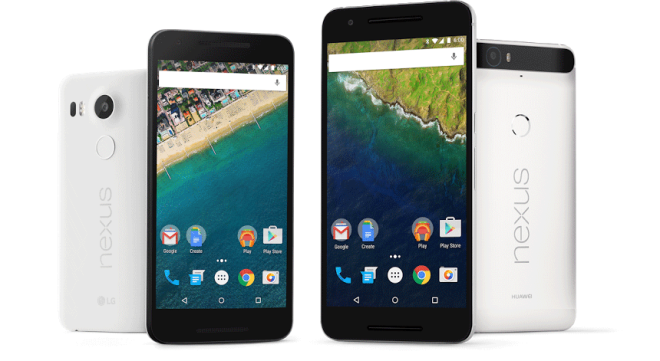 Today Google finally made its Nexus 5X and Nexus 6P officially official, and the question on the minds of many T-Mobile customers was "Does this support T-Mobile's band 12 and VoLTE?" Now it looks like we've got an answer.
In response to a question on Twitter, T-Mobile's support team says that neither the Nexus 5X nor the Nexus 6P will support band 12, but that T-Mo is working to enable the feature. Meanwhile, Wi-Fi Calling won't be turned on by default, but you can enable the feature when you connect one of the new Nexuses to T-Mobile's network.
@bickman2k Great questions Adam! They are not going to support Band 12, but we will continue to work with Google to enable this… 1/3

— T-Mobile (@TMobile) September 29, 2015
@bickman2k …feature in the future. That's a big "yes!" to WiFi calling. While not enabled by default, once you get that sucker… 2/3

— T-Mobile (@TMobile) September 29, 2015
@bickman2k …on our network, you'll be able to enable it. Thanks again for reaching out! *MaxD 3/3 — T-Mobile (@TMobile) September 29, 2015
T-Mobile product guru Des Smith fielded the same questions on Twitter and gave similar answers. He explains that Google is working on T-Mobile band 12 and VoLTE support on the 5X and 6P and that while Wi-Fi Calling is turned off by default, putting in a T-Mobile SIM and connecting to the network will let you turn it on.
@B_rent13 I'm hearing our partners at Goog are workin on it!

— Des (@askdes) September 29, 2015
@kentoe T-Mobile SIM will get you WiFi calling on them. I'm being told it's "off" by default, so go turn on in settings! — Des (@askdes) September 29, 2015
Band 12 LTE is a big deal for T-Mobile. That particular flavor of LTE does a better job of reaching over distances and penetrating buildings than T-Mo's other LTE coverage, and T-Mobile has been pushing it heavily lately, touting their plans to have the service in more than 350 markets by year's end. To that end, it's kind of surprising to see that Google's new Nexus phones don't support T-Mo band 12 LTE and VoLTE out of the box. We've heard some rumors that T-Mobile's certification process may be a bit of a pain, but you wouldn't think that that'd be an issue for a company like Google.
So there you go. For now it looks like band 12 LTE and VoLTE aren't enabled on the Nexus 5X and Nexus 6P, but Google is apparently working on fixing that. The two phones are expected to begin shipping later in October, so here's to hoping that Google and T-Mo have this whole situation sorted by then.
Via: Android Police
Sources: @TMobile (1), (2), (3), @askdes (1), (2)