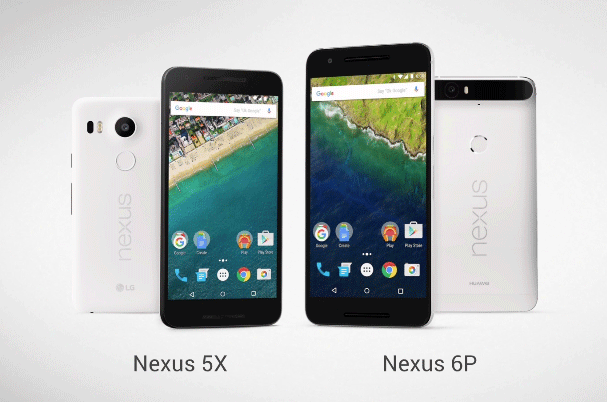 New Nexus day has officially arrived, and in a first for Google, we've actually got two new Nexus phones being added to the family at once.
First up is the LG Nexus 5X, the smaller of the two new handsets. The Nexus 5X has a 5.2-inch 1920×1080 display and 5-megapixel camera on its face, as well as a 12.3-megapixel shooter around back that also includes laser autofocus, 4K video capture, and 1.55μm pixels to capture more light.
Inside of the Nexus 5X lives a hexa-core Snapdragon 808 processor, 2GB of RAM, 16/32GB of storage, and a 2700mAh battery. LG and Google have also equipped the 5X with dual front-firing speakers, a Nexus Imprint fingerprint sensor around back, a USB Type-C port, and Android 6.0 Marshmallow.
Now we come to the Huawei Nexus 6P, which is Huawei's first Nexus device. The Nexus 6P has a 5.7-inch 2560×1440 AMOLED display and a 12.3-megapixel rear camera that touts a Sony-made sensor as well as 1.55μm pixels and 4K video capture. Around on the front of the phone lives an 8-megapixel shooter.
In addition to having a larger screen, the Nexus 6P's got some beefed up internals over the Nexus 5X. The Huawei phone boasts an octa-core Snapdragon 810 v2.1 processor, 3GB of RAM, 32/64/128GB of storage, and a 3450mAh battery, as well as front-firing speakers and a Nexus Imprint fingerprint reader like on the Nexus 5X. All of that is wrapped into an all-aluminum body. Like the Nexus 5X, the Nexus 6P comes equipped with Android 6.0.
Focusing on T-Mobile, both phones come unlocked and include support for LTE bands 2, 4, and 12, so they'll play nicely with T-Mo's 700MHz LTE coverage. Here's how the cellular support for the Nexus 5X and Nexus 6P break down:
Nexus 5X:
GSM/EDGE: 850/900/1800/1900MHz
UMTS/WCDMA: B1/2/4/5/8
CDMA: BC0/1/10
LTE (FDD): B1/2/3/4/5/7/12/13/17/20/25/26/29
LTE (TDD): B41
LTE CA DL: B2-B2, B2-B4, B2-B5, B2-B12, B2-B13, B2-B17, B2-B29, B4-B4, B4-B5, B4-B7, B4-B12, B4-B13, B4-B17, B4-B29, B41-B41
Nexus 6P:
GSM/EDGE: 850/900/1800/1900MHz
UMTS/WCDMA: B1/2/4/5/8
CDMA: BC0/1/10
LTE (FDD): B2/3/4/5/7/12/13/17/25/26/29/30
LTE (TDD): B41
CA DL: B2-B2, B2-B4, B2-B5, B2-B12, B2-B13, B2-B17, B2-B29, B4-B4, B4-B5, B4-B13, B4-B17, B4-B29, B41-B41
So now the all-important question: How much do they cost? The Nexus 5X starts at $379 for the 16GB model and goes up to $429 for the 32GB version. If you'd prefer the Nexus 6P, expect to pony up $499 for the 32GB model, $549 for the 64GB version, or $649 for the spacious 128GB variant. While the more capacious versions of the Nexus 6P aren't exactly cheap, they're actually pretty reasonable for a high-end smartphone in late 2015.
Both Nexus phones will be available for pre-order from the Google Store today, and they're expected to ship in October. It's also worth noting that they're both compatible with Project Fi, so they ought to play nicely with T-Mobile just like the Nexus 6 if you'd rather use T-Mobile's network.
Google is also throwing a few goodies in with each Nexus purchase. Both the Nexus 5X and Nexus 6P come with 90 days of Google Play Music, a $50 Google Play credit, and Nexus Protect. Nexus Protect is Google's new insurance program that offers 2 years of coverage for mechanical issues and accidental damage. Nexus Protect will cost $69 for the Nexus 5X and $89 for the Nexus 6P.
Sources: LG Nexus 5X, Huawei Nexus 6P