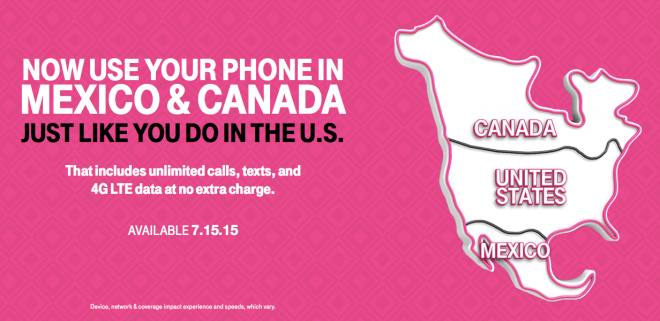 The next Un-carrier move to get Amped? The original, Simple Choice.
T-Mobile today introduced Mobile Without Borders, an expansion of Simple Choice that lets you use your phone in Canada and Mexico just like you would in the US. That means that calling and texting to, from, and between the US, Canada and Mexico won't cost you extra, regardless of whether a mobile or landline phone is involved. And when you're in Canada or Mexico, you can use your 4G LTE data plan just like you would in the US.
You can find the full list of cities in Canada and Mexico that are covered by Mobile Without Borders right here.
Mobile Without Borders also includes Music Freedom and Wi-Fi Calling, allowing you to use those features in Canada and Mexico just like you would in the US. T-Mo says that customers will also be able to tap into their Data Stash in Canada and Mexico, though that feature won't be added until later this year.
Mobile Without Borders will become available on July 15, and it'll be available to all Simple Choice customers on prepaid and postpaid. New customers will get it automatically, while existing subs can add it to their plan online, over the phone, or in store by switching to the new plan for free. If you've got a legacy plan that you don't want to switch away from, you'll be able to add Mobile Without Borders to it for $10 per month. T-Mobile is also showing love to businesses by allowing them to add North American coverage to 10 lines for no charge, and then $1 per line after that.
Here's what John Legere had to say about Mobile Without Borders:
"After spending billions buying up Mexican telecoms, AT&T's CEO is promising 'the first seamless network covering Mexico and the U.S.,' something 'unique' that 'nobody else will be able to do for the consumer.' So much for that. They won't be the first. And they won't offer Canada for free. We've done this the Un-carrier way − reaching across borders, partnering with leading providers offering the best LTE networks, creating a simple solution right now − then not charging a penny more for it."
Also, a reminder that John Legere and Mike Sievert will be holding a call at 9:00 am ET to discuss Mobile Without Borders and take questions. If you'd like to ask them a question, you can do so by tweeting @johnlegere or @sievertmike.
Source: T-Mobile (1), (2)