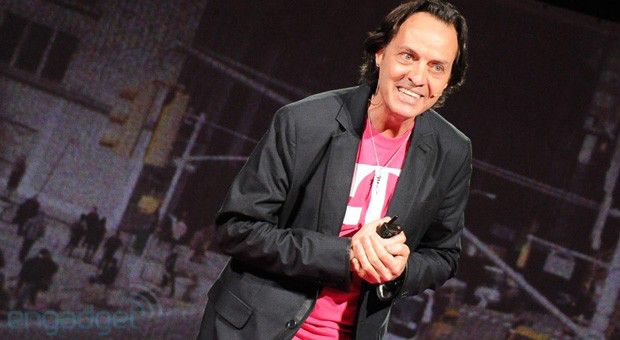 After teasing today's Un-carrier Amped move with a Dubsmash video, John Legere has announced a full contest involving the popular mobile app.
T-Mobile's new Un-carrier Amped Dubsmash Social Contest is kicking off today and will run through August 4 at 10:00 am PT. To participate, you need to download the Dubsmash app to your smartphone (iOS and Android) and create a video of yourself using one of the six John Legere quotes that've been provided. Options include "I mean, I probably could stay on vacation and let these guys self-destruct all by themselves, but where's the fun in that?" and "We are going to redefine a stupid, arrogant, broken industry." You then post your clip to Twitter or Instagram and include @JohnLegere and the hashtags #MusicFreedom and #Contest.
Pick a quote to #Dubsmash here: https://t.co/xCEvBixSdU & share your version using #MusicFreedom #Contest (rules: http://t.co/bkq4Dvy3ip)

— John Legere (@JohnLegere) July 28, 2015
Once the contest is up, T-Mo's judges will select 100 of the most creative videos that they feel best represent Music Freedom and John Legere's attitude. Each winner will get an iTunes gift card worth $50.
Everyone knows that John Legere is a unique, outspoken CEO, and this contest lets you do your best impression of him and possibly get a $50 iTunes gift card for it. And with the contest running through August 4, you've got plenty of time to practice saying "We're listening to our employees and listening to our customers and shutting up and doing what they tell us" in order to score a gift card.