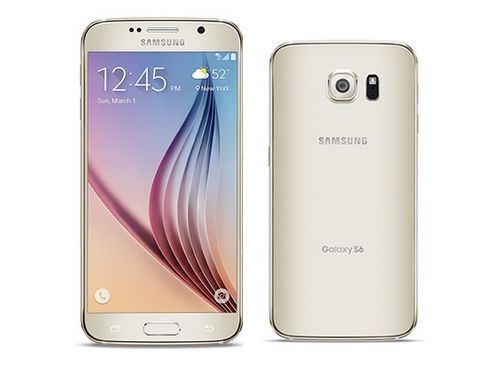 T-Mobile announced yesterday that – as part of its Memorial Day weekend offers – it would be offering customers 64GB Samsung Galaxy S6 and S6 Edge phones for the price of the 32GB models. The info we had was taken from the short press release sent to us. But now, we've been sent an internal memo which details a little more of the ins and outs of the "free memory upgrade" promotion, and it contains good news for those of you who purchased a 32GB or 64GB model this past week or so.
As we already know, the memo states that the offer is available from May 23 until May 25. 64GB models of the S6 and S6 Edge are available for the price of the 32GB models, and those still choosing to buy the 32GB this weekend will get a rebate of $50. The offer is good for new and existing customers with any postpaid, prepaid or Simple Choice No Credit rate plans.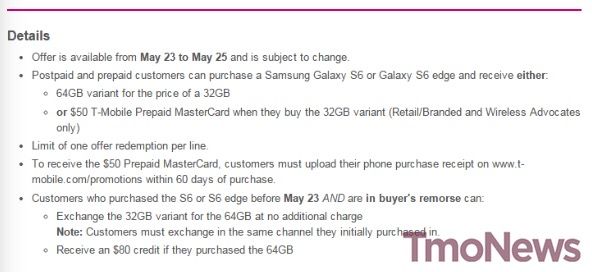 .
Buyer's Remorse – Partial refund/exchange
Here's where it gets a little interesting – some customers who have recently bought one of the phones from T-Mobile branded channels can also get in on the deal. The memo notes that "customers who purchased the S6 or S6 Edge before May 23 AND are in buyer's remorse can:
Exchange the 32GB variant for the 64GB at no additional charge.   Note: Customers must exchange in the same channel they initially purchased in.
Receive an $80 credit if they purchased the 64GB"
Buyer's remorse is the usual 14 day period from (and including) the day you purchased your phone. So, if that's you, make sure you take advantage of this weekend's deal. If you fit the criteria and you call Care, they'll refer you back to where you bought the device and you can process a standard "Buyer's Remorse" exchange, returning the 32GB model and have a new order processed for the 64GB. Restocking fees should be waived.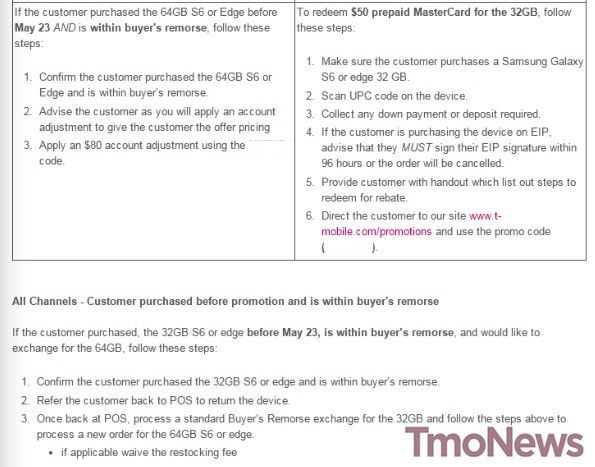 For those who purchased a 64GB Galaxy S6 or S6 Edge AND are in Buyer's Remorse period, representatives will apply an $80 "account adjustment" using a bespoke code.
Since many of you were asking, yes, the offer is going to be available online. In fact, the offer is going to be available through virtually every channel imaginable. Retail and branded stores, Care, Telesales, Web, Small Business in Retail, Wireless Advocates (Military and Costco) and Car Toys are all covered. But there are some limitations. The $50 prepaid MasterCard for those choosing to buy the 32GB model is only available in Retail/Branded stores and Wireless Advocates. Sadly, B2B (Direct and Indirect) are "out of scope".
In short: If you haven't bought an S6 yet and want to, this is the best chance you've had to get twice as much storage than before. Secondly: Don't feel hard-done by if you've purchased an S6/S6 Edge over the past week or so, because you can still take advantage of the deal this weekend.