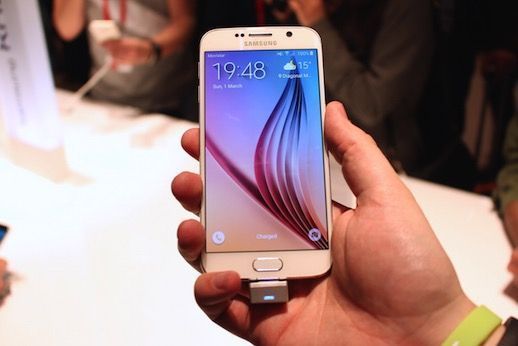 T-Mobile is set to launch a new Samsung promo in which it aims to tempt customers to buy a new Galaxy flagship smartphone and a tablet together. The company sent out communications to staff earlier this morning stating that customers buying a qualifying Samsung phone and tablet together will get a $100 T-Mobile Prepaid MasterCard. The deal is good across all channels from May 13.
Handsets included in the deal are the Galaxy S6, Galaxy S6 Edge, Galaxy Note 4 and Galaxy Note Edge. The tablets eligible will be the Galaxy Tab S and the Galaxy Tab 4.
As you'd expect there are a few terms and caveats to wade through. Customers won't have to buy both devices on the same day, but they will need to buy them both on EIP and make the second purchase within 30 days of the first. The second device also has to be upgraded or activated on a postpaid rate plan. This could include the "Best Tablet Plan in Wireless"/match your phone data tablet plan. Both devices have to be active and with payments up to date when the $100 rebate is processed in order to get the Prepaid MasterCard.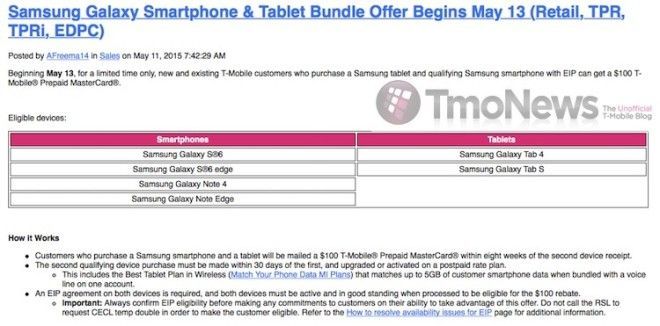 Once all those criteria have been met by the customer, they mail their receipts off and should expect to receive their $100 prepaid card back within 8 weeks of the second device receipt being accepted.
I'll be interested to see how many people sign up for this offer, given the fact that customers will effectively have to sign up for two EIPs and have two plans running, just to get $100 back in a couple of months, on a prepaid card. Maybe I'm just cynical, and maybe this is an awesome offer. But considering it only includes the most expensive Samsung phones, I'm not seeing it as being of tremendous value. What do you think? Are you in the market for a new Samsung phone and tablet?