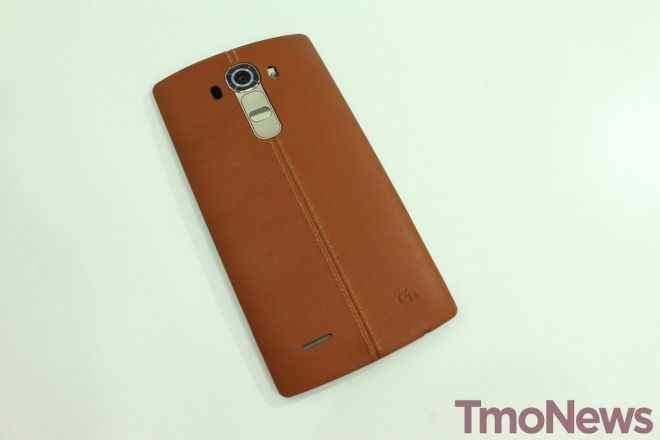 Last year, I was fortunate enough to attend LG's G3 launch event to see if the company could come up with a device bold enough and powerful enough to beat its flagship rivals. Sadly, despite having great specs on paper, the overall performance for me wasn't quite good enough. The screen was dull and dark and its camera could sometimes take amazing shots and other times not. It was a little indecisive to say the least. But the one thing that sticks in my mind from 12 months ago – apart from the terrible custom UI – was the speed. It would lag almost every time I went back to the home screen. It was almost as if its processor wasn't built to handle so many pixels on one screen. Let's not forget, this was the first time we'd seen a QHD resolution display on a flagship smartphone.
With the LG G4 then, I was anxious to see if the company would improve the parts it needed to and – after my first few days with it – I'm delighted say it seems like they have. I haven't spent enough time with it to write a full review, but I wanted to share my initial impressions in the hope that the rest of my time with this device carries on as it has started.
First off, I have to say, I'm a real sucker for leather. I've had leather cases on phones since my iPhone 3GS back in 2009. In my younger days, I'd wear really chunk leather watches and cuffs. I wouldn't quite go as far as wearing leather pants – THAT episode of Friends put me off for life – but let's just say, if there's a chance to put leather on my phones, I do it. My Moto X is customized with a black leather back. So when I saw the initial leaks of LG's G4 all leather-clad, I got very excited. Even more excited when T-Mobile sent me the very same version to try out.
On the gently curved back of the G4, the leather really adds a sense of comfort and softness to the back of the phone. But it's not quite as luxurious as you might hope. It's essentially just a thin plastic shell covered in a really thin layer of tan, vegetable dyed leather. As far as I can tell, the light yellow stitching up the center does nothing to hold the leather to its shell, but it does help create a sense of authenticity. At least, from an aesthetic standpoint.
Although there are clear differences – like the black-patterned front face, chrome edges and leather back – between this and the G3, overall design hasn't changed much. Even the slightly curved screen is so subtle you almost miss the fact that it's not flat. But the lack of major changes isn't a bad thing. The device shape, in-hand feel and rear-placed buttons were the few things I liked about the G3. But with the G4, it feels a bit more grown up.
First thing I really noticed was the display. Like the G3, it's QHD resolution. For the spec-obsessed: That's 2560 x 1440 pixels over 5.5 inches, giving it a pixel density of 538ppi. What's changed this time, however, is the panel quality. LG will tell you it's a "Quantum Display" to impress you with marketing talk, but it really doesn't have to. It's an impressive display even without the fancy name. Colors are much more vibrant – without being over-saturated – and content is really sharp onscreen. It's easily one of the best displays on the market right now.
Performance is vastly improved from the G3 too. There's no real lag or stutter in general use and frame rates during high-speed games is pretty smooth too. It doesn't choke, despite the manufacturer going with an unconventional 6-core Snapdragon 808 processor instead of the usual octa-core 805 or 810.
Its camera is vastly improved too. On paper, and in real life. At least, it is if you have the patience to take the time needed to set up a shot manually. It features a new 16MP sensor with laser autofocus, optical image stabilization and an impressive f/1.8 aperture. While that's great, what I really love is the controls offered by LG. You can manually set the ISO, shutter speed, focus and even the white balance. What's more, you can save images in RAW to ensure you don't lose any quality through saving as a JPEG. It reminds me a lot of the Lumia PureView cameras in terms of controls and quality. Again, I need more time to give my final thoughts later on, but I'm impressed so far.
If there's one thing I'm not sold on yet, it's the battery life. With a respectable 2,900mAh removable battery you'd expect great stamina from the device. But I haven't experienced that yet. In fact, it's only just making it to the end of the day before hitting the dreaded 20% mark. This could be due to heavier use than normal, but even checking screen-on time today, it got to just 2h 30mins of screen use leaving me with 15% battery. Granted, it's not terrible. Lasting a work day is something of a universal standard for battery performance. But when you've used devices like the BlackBerry Passport, Xperia Z3 and iPhone 6 Plus which all get to the end of a day without even trying, it's disappointing to have a flagship 5.5-inch phone that can't easily get me in to my second day on a full charge.
Other features include 3GB of RAM, 32GB storage and the option to expand its storage using a MicroSD. Perhaps that last feature is something tempt the old Galaxy-faithful across to LG smartphones. If you were one of those frustrated by Samsung's decision to use a non-removable battery and non-expandable storage in the GS6, this could be a great choice.
It's not available to buy just yet, but you could be in with a chance to win one from T-Mobile if you entered the company's pre-launch sweepstakes. T-Mo is giving one away every day until it's on the market. Read up on that here. If my first few days are anything to go by, this could be one of 2015's finest devices.