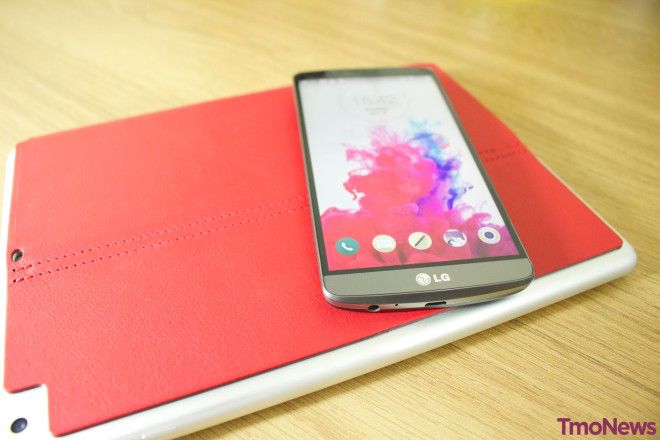 With Samsung pretty much cleaning up on the Android market, you could be forgiven for ignoring its Korean competitor up until last year. The LG G2 turned heads. Its odd, rear-placed power and volume buttons as well as its super-slim bezels made it something of a milestone for LG. And then the ridiculously huge, curved G Flex ensured no one could ignore the company again.
The big question for 2014 was whether or not the manufacturer could follow up the awesomeness that was the G2 with anything as good this year. Then it dropped the G3. And to make sure everyone heard about it, there were launch events in multiple countries, in multiple timezones. One of which I was fortunate enough to attend. And thanks to the hosts, I've been using the G3 as my daily, go-to phone for the past couple of weeks.
In the modern day, it's difficult for companies to stamp any noticeable creative mark on phone chassis design. You don't have too much to work with now that every phone must start with a large, rectangle touch screen. But LG's managed it here.
Unlike virtually every phone on the market, the G3 doesn't have any buttons around the edges. Left and right edge surfaces are completely undisturbed, as is the top edge. On the bottom edge, all you have is a Micro USB port and 3.5mm jack input. Instead, the power button is placed about 3/4 of the way up the back of the device, right in the center. Directly above and below are the volume up/down buttons, and all are very easy to get to with your index finger regardless of which hand you prefer to use.
To make it even easier to detect the buttons, the power button is slightly convex, while the volume buttons are concave. Concentric circles texture the power key, while tiny dimples are used to add a different feel to the volume buttons. Once I'd used them for a few days, I soon got out the habit of trying to find buttons on the edges. What's particularly pleasing, from an aesthetic standpoint, is the symmetry on show. The dual-tone, pill-shaped LED flash is perfectly mirrored in positioning and dimensions by the laser equipped sensor used for the auto-focus system.
Apart from the large panel of Corning Gorilla Glass 3 on the front, the G3 is made predominantly of plastic. But don't let that fool you in to thinking it feels cheap, or flimsy. It's solidly made, and even the attractive, brushed-effect design removable back cover is strong and durable.
More impressive than any of that though is how LG has taken a device with a 5.5-inch screen and made it look and feel comfortable in hand. It doesn't feel gigantic, and it doesn't look like a phablet. That's down to two or three factors. Firstly, the bezel around the display is so slim, the screen is virtually edge-to-edge. Secondly, the thin edges and curved back help it feel natural in your palm. And given the fact that the buttons are so easy to reach, it really is no struggle to use.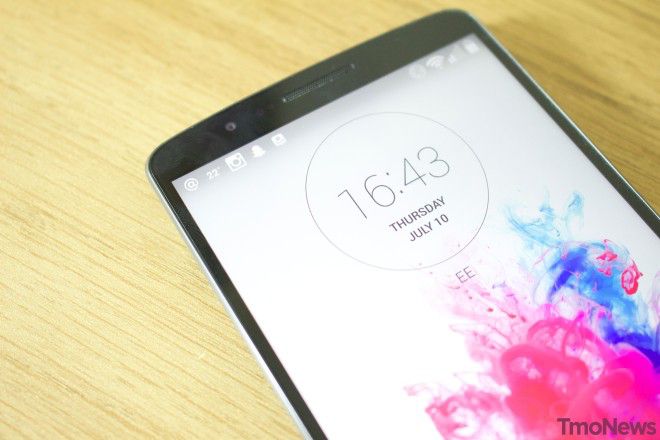 On paper, the 5.5-inch, 1440×2560 pixel, 534ppi display sounds incredible. But the reality is, there's very little benefit to having such a high resolution on such a small display (in comparison to a 27-inch iMac display). Particularly when there's no content optimized for that resolution yet. That's not to say it's not sharp. It is. Just not noticeably much sharper than a 1080p phone display.
But apart from that, LG's display panel is among the best on the market. It's bright, shows up colors really well and has great viewing angles. Regardless of what angle you're looking it at from, whites remain white and don't veer towards pink, blue or green. What I particularly enjoyed was how close the display panel is to the glass surface. It almost gives the illusion that your app icons, and on-screen content is floating on top of the glass.
Its color and tone reproduction are impressive too. I wouldn't say it's the most vivid display on the market, but there does seem to be a bit more quality. App icons seem to display more texture, there's better and more gradual gradient distinction. So if you have an image that's supposed to go gradually from dark to light, you see a more natural blend instead of just a few steps and high contrast.
It's not perfect though. Daylight visibility isn't the best. And something I did notice, which was quite unusual, is the way it renders text sometimes. It's almost too sharp. Similar to the way your images look if you edit them and turn the sharpness all the way up to 11. Details are fine, but they stop being smooth and look – sort of – jagged. But this is plain nitpicking on my part.
In short: If you love gaming and watching movies on your mobile device, there's very little you won't like about the LG G3's awesome screen.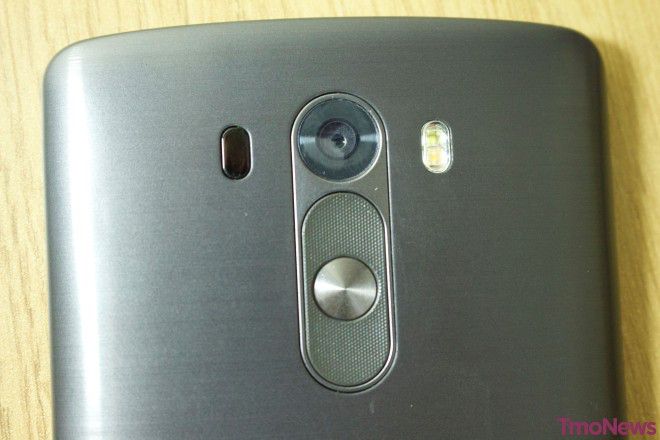 Cameras on smartphones these days are getting really good. In fact, bespoke point-and-shoot cameras are pretty much on the way out thanks to the fast evolution of tiny sensors and lenses. Rarely is about megapixels, but more about what the processors do with the pixels, and what the lenses let on to the sensors. LG's G3 is up there with some of the better cameras, but perhaps not the best.
One area the LG really excels is speed. If you have it set up to focus and capture an image when you touch the screen, it'll snap a shot and process it almost as soon as your thumb's left the surface of the display. That's thanks, mostly, to the lazer-guided auto-focus system which claims to focus in less time than it takes you to blink. In good light, the 13MP sensor will lock on to any subject, even when it's really close up and take a good shot. End results – however – have a very unprocessed finish.
Many times I found that the images light/dark levels weren't evenly balanced out. Colors weren't particularly bright every time, but it very much depends on what the lighting conditions you're shooting in. Saying that, images are almost always very sharp. In fact, I was massively impressed by the automatic macro capture. I shot a couple of really close, small objects and got some wonderful detail. OIS built in to the lens also helps rid your images of blur if you happen to be on the move when shooting.
One thing I really didn't like was the way the camera deals with low-light situations. When shooting without bright, white light, it has this way of making images look almost oil-painted. Too much smoothing making skin look unnatural, and details smudged.
You can also capture video in 4K (if you feel the need). But otherwise, video quality is okay. I got plenty of sharpness, and the phone's auto-exposure engine is quick and works smoothly.
It's one of the best phone cameras I've used when it comes to the small details. And the issues I have with color aren't exactly unfixable. A quick trip to a photo editor like Snapseed or Pixlr will soon sort those out. On the plus side, it does have an automatic HDR mode for balancing out areas with high contrast. On the down side, it doesn't work as well as others I've used.
All in all, it's a good camera. And unless you're a big fan of shooting people in low light, you're not going to have many issues with the G3's snapper.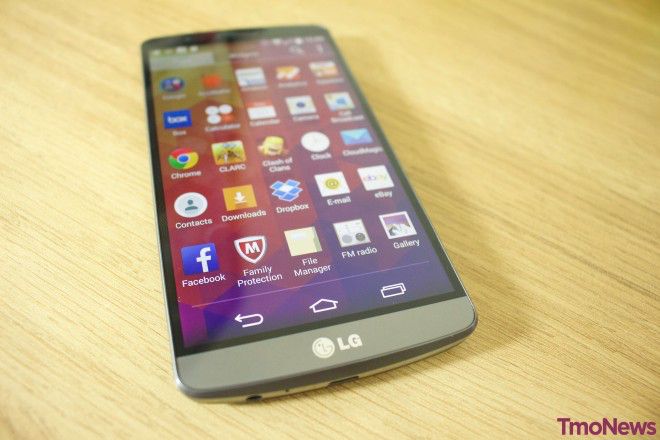 T-Mobile's selling the 32GB model of the G3, equipped with 3GB RAM. I was sent the 16GB model with 2GB RAM, so my experiences could be different to the ones you have with your Magenta-powered devices. But in some cases, I was left a little unimpressed by the G3's speed.
Like a lot of top devices, the G3 has a quad-core Snapdragon 801 series processor. With it being 2.5GHz, and having as much RAM as a low-end laptop, you'd expect it would handle everything with consummate ease. But it doesn't.
Don't get me wrong, it loads apps up just fine. But there's very noticeable lag when switching back to my home screen after using an app. Even if it's just Instagram, or Facebook, I'll hit the home "button", and my app icons load, then my wallpaper, than my standard clock widget. In that order, taking 2-3 seconds in total. For a phone this powerful, it shouldn't be happening.
There are a number of possible reasons for this lag. Number 1 – The way Android's programmed to load apps in a specific way. I noticed similar (but less severe) lag on the Sony Xperia Z2. Number 2 – There are too many pixels on the screen. In which case, LG should have stuck with 1080×1920. Number 3 – LG's not optimized the processor efficiently. Number 4 – LG's custom skin is too heavy.
I have at least one app decide to "stop running" each day, adding to the performance frustrations. If performance, fluidity and speed of major importance to you, I'd have a hard time not recommending the HTC One M8 over this. It's more reliable, and doesn't suffer from any of the lag I experienced. Its custom Sense UI isn't as heavy, perhaps one of its big plus-points. And unlike a lot of other tech reviewers, I wasn't sent a Korean carrier version. I have the official, unlocked, non carrier-branded UK model. It's as clean a software install you can get.
But that's where my complaints end with the G3. Downloads over Wi-Fi or LTE are quick and painless, browsing is as quick as I've seen from any device and loading up games and apps is very quick.
It's rare that I use a smartphone and end up surprised out how good the battery life is. But in this case, I'm delighted. Considering how much power it must use to light up the large 5.5-inch, 2K display, it's pretty phenomenal.
I'm a pretty light user. A typical day is used mostly uploading a couple of pics to instagram, maybe taking a few photos, messaging and playing a game or two. To give you some kind of comparison, an iPhone in my typical daily use will last a full day. An HTC One M8 will last perhaps a day and a half on a single charge. G3: 2 days.
Its 3,000mAh battery isn't the reason for its success. It's the clever way the device handles displayed information. Based on how you're using the phone at any given time, the display's refresh rate is altered. So it's higher when you're video watching, and lower when you're looking at still images. As you use it, it learns how to optimize for your personal use and becomes better over time. And for those who like not having to use cables, your G3 is Qi-compatible and will charge wirelessly.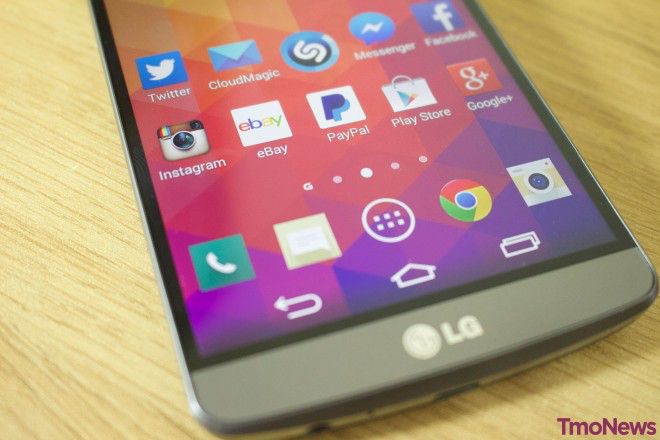 LG has jumped on the "flat is best" bandwagon with both feet. All its stock app icons are flat and colored using hues you might find in 1930s decor. Lots of beige, orange and green. And I'm not a big fan. The problem is, stock app icons like Messages, Camera and Phone look out of place alongside the brightly colored icons like Chrome, WhatsApp, Messenger and many others.
It has some nifty features though. Its smart cards are built-in to a stock weather/clock widget and advise you on upcoming weather changes, calendar reminders among other things. There's also the quick reply functioning for messages, and optional mini-apps that open up as pop-ups on your screen regardless of which app you're in.
All that aside, I'm still much more of a stock Android persuasion and can't help but wonder what a vanilla Android version would be like. I'd not hesitate to slap some cash down on a GPE edition.
Overall, the G3 is a brilliant phone. It has one or two problems here and there, but nothing that detracts from what has been a really great experience. It's a good-looking, well-built phone with a great camera, amazing display and stunning battery life. Yes, I'd like it if the operation was a bit zippier. But I've not once wanted to swap it out for a different device since I received it.
T-Mobile's official G3 launch date is July 16th, but some customers have started receiving theirs already this week. Let us know how you get on with the 3GB versions, and if you notice the same home screen boot delay as I did.