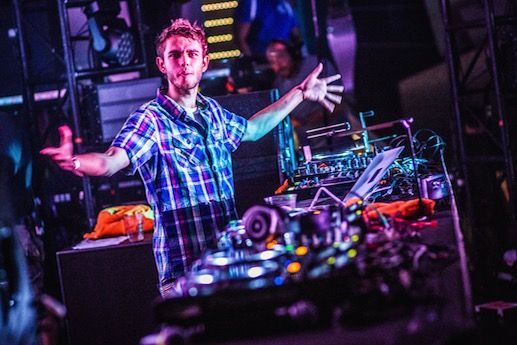 T-Mobile regularly teams up with musical stars to offer exclusive content and bonuses to its fans and customers. Last year it was Macklemore and Shakira. This year it's Zedd.
In a press release today, T-Mobile announced that it will working with the Grammy award-winning artist as his new album, True Colors is launched. To kick off the new album, and the tour that's following soon, T-Mobile and Zedd are going to offer 250,000 free downloads of the artist's new remix of "I want you to know." Free downloads will be available from tomorrow, April 8th, to fans who follow T-Mobile's Facebook and Twitter accounts.
In a music-themed press release, the company also announced that it is returning as the sponsor of the Coachella live stream, and as the sponsor Beatport, a popular EDM site and recent addition to Music Freedom's list of free stream services. With Beatport, T-Mobile's list of free streaming services has grown to include thirty different services.
.
FULL PRESS RELEASE:
SANTA MONICA, Calif., April 7, 2015 /PRNewswire/ — Multi-platinum, GRAMMY award-winning artist/DJ/producer Zedd will release his hotly anticipated second album, entitled True Colors, on May 19th via Interscope Records. Zedd executive-produced the album and co-wrote all the songs. Featured vocalists will be announced in the coming weeks. True Colors is the follow-up to Zedd's 2012 debut album Clarity, which spawned five singles, including the Grammy-winning title track, and cemented Zedd as a global star.

True Colors' first single, "I Want You To Know," featuring Selena Gomez, has climbed to No. 1 on Billboard's Hot Dance/Electronic Songs chart. Written and produced by Zedd, with contribution from OneRepublic's Ryan Tedder, the uplifting pop-influenced dance track was dubbed USA Today's "Song of The Week" in late February, while Refinery29 said: "We're calling it: This is the turn-up song for spring." The video for "I Want You To Know" has racked up more than 17 million views on Vevo. Watch it HERE.

T-Mobile and Zedd also announce a new partnership and tomorrow morning, 250,000 free downloads of the Milo & Otis remix of "I Want You To Know" will be made available to fans who follow Zedd and T-Mobile's Facebook, and Twitter. T-Mobile will also be a working with Zedd throughout the year to bring Un-carrier customers access to exclusive benefits including reserved tickets for live performances and more. This sponsorship to help un-leash the music represents one of the major investment areas for T-Mobile. T-Mobile launched Music Freedom™ last year to allow customers to stream all the music they want on America's fastest nationwide LTE network − without hitting their monthly high-speed data. Zedd will hit the road in support of True Colors this fall T-Mobile will be the title sponsor of the tour. More details will be announced soon.

Word has already gotten out about Zedd's very special roll-out of the #ZeddTrueColors campaign, in which 50 fans in 10 different cities get to hear a new song from the album, party with other fans, and meet Zedd at color-themed events in very special locations around the U.S. As part of the experience, fans will listen to each new song on brand new matching colored Beats By Dr. Dre headphones. The first event began in Austin on March 19th during the SXSW festival and wound up in one of the largest caverns in the state of Texas, Longhorn Cavern State Park. At the purple-themed party, Zedd unveiled the album's first song, "Addicted to Memory" feat. Bahari — a classic Zedd dance track that acts as "an odyssey that brings the listener into the album," he says. See more about the Austin event HERE.

The second event began in Los Angeles and traveled to the Integratron in Joshua Tree, Calif., on March 28th. There fans watched as Zedd set a giant wooden Z on fire in the middle of the Mojave Desert and got the first-ever listen to "Straight Into the Fire" at the orange-themed party.

The yellow themed third event took place in Phoenix on April 5th under a full moon with boating on Lake Pleasant where Zedd unveiled the track "Bumble Bee".

"I wanted fans to experience the album in a whole new way," Zedd says, adding that every song on the album is associated with a color, which inspired the idea for the events. "I can't wait for everyone to see what's coming next." Keep an eye on http://zeddtruecolors.com/ as Zedd reveals the music of True Colors to select groups of fans in unbelievable locations across the country in the coming weeks.

Born Anton Zaslavski, Zedd has distinguished himself by drawing from his diverse musical training and a background spanning classical to post-hardcore/metal to electro house. He creates detailed, carefully produced compositions that also appeal to audiences outside of the EDM world. The New York Times has said, "his talent is extraordinary," while Stereogum has noted: "His beats tend to sound like gorgeously engineered spacecraft that shift into warp speed at the drop, their engines overloading and threatening to disintegrate." After signing with Interscope Records in 2012, Zedd released Clarity to much critical acclaim. The title track climbed to No. 2 at Top 40 radio, went Top 10 on the Billboard Hot 100, and won a 2014 GRAMMY Award for Best Dance Recording. The video has racked up more than 122 million Vevo views, while his platinum follow-up hit "Stay The Night" (ft. Hayley Williams of Paramore) has over 102 million Vevo views and won the 2014 MTV Clubland Video Music Award. Zedd first made waves with a series of remixes of tracks by Skrillex, The Black Eyed Peas, Fatboy Slim, and Lady Gaga. He has headlined at numerous festivals including Coachella, Outside Lands, Bonnaroo, Ultra, Electric Daisy Carnival, Nocturnal, Tomorrowland, Lollapalooza, Electric Zoo, and many more.