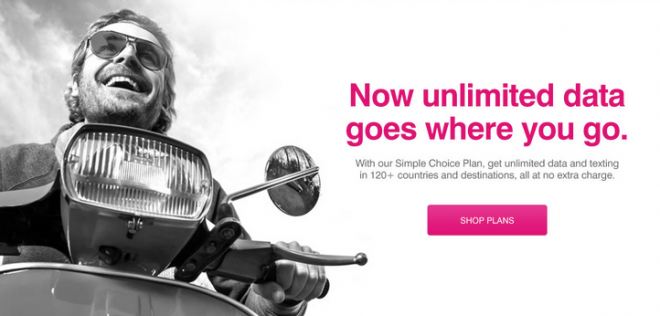 It's become something of a pattern since the Uncarrier movements started a couple of years back: T-Mobile unleashes a program or plan, and another carrier copies it. Whether that's separating the plan and cost of the phone in to two separate deals, or offering early upgrade plans. T-Mobile does it, and the rest follow suit in a bid to remain competitive.
One of those moves – launched by T-Mobile in October 2013 – was to give its Simple Choice customers free international texting and data when they travel. Granted, the data access is limited to 2G/EDGE speeds, but going abroad knowing that you're not going to rack up a huge bill on your vacation is a huge load off any traveler's shoulders.
Finally, another carrier has seen the light and copied the move. Except it doesn't quite seem as good.
Sprint, earlier this week, announced a new "International Value Roaming" feature. Qualified customers (new and existing) will be able to add it to their plans providing they have a compatible GSM/LTE phone. They get free unlimited data (again 2G speeds) and texts while visiting any country covered by the new plan. And just like T-Mobile, will charge you 20 cents per minute to make and receive calls.
It almost looks a carbon copy of T-Mo's offering until you look at the countries offered. Sprint's service at launch only includes 16 international destinations: Argentina, Brazil, Chile, Costa Rica, El Salvador, Germany, Guatemala, Japan, Mexico, Nicaragua, Panama, Russia, South Korea, Spain and the UK.
Customers can – if they like – add access to higher network speeds (up to 3G) with bundles starting at $15 for 100MB for one day, $25 for 200MB for seven days or $50 for 500MB over fourteen days. Customers can also use Sprint's Wi-Fi calling feature in over 200 countries to make calls back to the U.S. Providing they have a compatible handset.
Now, I'm not suggesting that this is a bad move from Sprint. International roaming is one of the biggest pain points for customers. In particular those who travel often. What I am suggesting however, is that Sprint has some way to go before it comes close to competing with the level of coverage offered by T-Mobile. As an example, here's a breakdown of the number of areas covered by the T-Mobile International Roaming feature:
North America and Caribbean – 27 countries/territories
South and Central America – 20 countries
Europe – 44 countries
Asia and the Pacific – 21 countries
Africa and Middle East – 13 countries
That's 125 countries/territories in all. Some 109 more than what Sprint can offer at launch. So Old Yeller definitely has some catching up to do. But it's a start. And the company does have plans to expand its international offering.
With all this said, it's worth questioning how long this will only cover 2G data speeds for. Although it's great having free roaming on a device, most services that rely on a data connection really struggle on anything beneath 3G speeds. I know when I was in Barcelona, I tried browsing and using data with the 3G/4G switched off to save costs. It was horrendous. In the end I added a comparatively good value add-on to my plan to gain access to real data speeds.
I'm curious: What's your experience of using T-Mobile's unlimited 2G roaming abroad? Was it as frustrating as it sounds? Or was it great to get it for free?
Via: Fierce Wireless