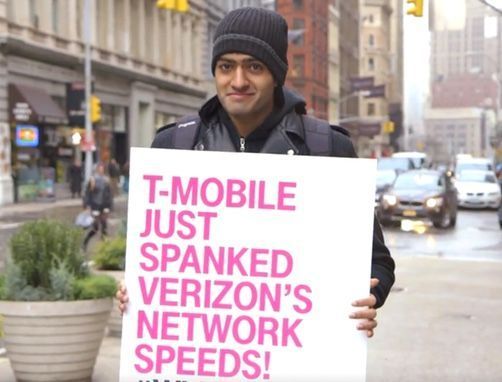 Recently we read that – according to Open Signal – T-Mobile has the fastest LTE network in the U.S. This is thanks mostly to the carrier's super-fast Wideband LTE network which recently rolled out in the Big Apple.
To prove how fast T-Mobile's network is in New York City, the company sent its popular product guru, Des Smith (aka @askdes), on to the streets to compare download speeds with the public. The challenge involved downloading a speed test app, then performing a test. Check out the video below:
The @TMobile network is #DataStrong and we prove it every day! #WeWontStop https://t.co/UrEYaQtVaE

— John Legere (@JohnLegere) March 13, 2015
The video was originally shared by @JohnLegere on Twitter this morning and has been released alongside a new add campaign which will begin to air on TV from tonight during primetime. The new commercial – dubbed "Ready Set Switch" – will also focus on the carrier's network capacity and download speeds vs. the competition. And you can get an early preview of the add courtesy of the T-Mobile YouTube channel.
It's yet another campaign by T-Mobile to educate customers of other carriers that its own network is very good (as long as you live in a major metro area). For New Yorkers who never leave the city wanting to have a faster network experience, T-Mobile is there, and it will pay off your contract so you can switch. At least, that's the message.
On another note, it will be interesting to see how the other carriers respond to this advertising. Verizon and Sprint have both been criticized and complained against by T-Mobile for their false network advertising. Or for misrepresenting T-Mobile's network. I can't imagine they'll just let this one slide without any comment.
Source: John Legere (Twitter), YouTube (T-Mobile)