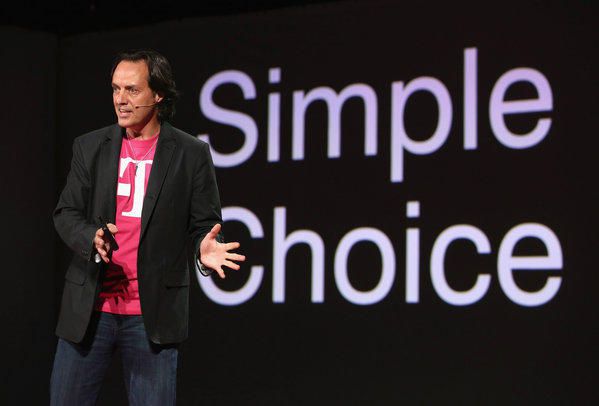 We've been informed that T-Mobile is currently sending out texts to select customers offering them a free upgrade to unlimited 4G LTE. Starting April 1st and lasting until the end of 2015, customers who receive a text offering them the promotion will be able to surf and stream as much as they want to for the rest of the year.
In the text is a link to this page which states the following:
"To thank you for being a loyal customer, some lines on your account are being upgraded to Unlimited 4G LTE data, starting April 1, 2015 through December 31, 2015—at no extra cost and with no action required! Surf, shop, and stream with no limits on our nationwide 4G LTE network.

With this upgrade, starter stash and Data Stash will go away because with Unlimited high speed data there's no need to roll your data forward. To keep your current plans, text "STASH" to 1508 by 3/17. Free message, text HELP for help.*"
As with any offer, regardless of how awesome it is, there are some terms and conditions. Customers who take the offer lose their Data Stash – as mentioned above – and they don't get the full benefit of being on the highest unlimited 4G LTE Simple Choice plan. For instance, they don't get access to Rhapsody unRadio and they keep their existing data allowance for tethering. So you won't get the 5GB allowance for hotspot use that a customer paying the $80 per month would.
Only customers who receive a text message offering the promotion are eligible for the program, so if you're on a lower Simple Choice plan and are hoping to get in on the action, it's bad news if you don't receive the SMS.
We've reached out to T-Mobile to ask exactly what the criteria is for specific lines receiving this offer. Just in case some qualifying customers miss out when they shouldn't. If we hear back from T-Mo, I'll update this post with the information.
Let us know if you received the offer, and if your decided to opt out or if you're giving up your Data Stash for completely unlimited data.
UPDATE: Although T-Mobile didn't get back to us, a source who knows of the promotion did, and they stated only that the company was hoping to "surprise a small percentage of customers" who they thought would benefit from having unlimited access to the carrier's 4G LTE network.
Thanks, Rhett.