T-Mobile's Music Freedom service, launched last year, has been a popular one among consumers. Millions of songs are streamed every day and none of them count against personal data allowances. Since launch, the list of available services has grown and now, 31 streaming services are included in the deal. The latest three aren't the biggest names, by any means, but were added to the "Streaming Partners" list last week, March 18th.
Tidal Music, BandCamp and MixCloud are the latest streaming services added to Music Freedom. The full list now includes the following:
Pandora
iHeart
Spotify
Slacker
Google Play Music
iTunes Radio (iTunes Match and iTunes song previews NOT included)
Rhapsody
SoundCloud
RadioTunes
Digitally Imported
Fit Radio
Samsung Milk
AccuRadio
BlackPlanet Radio
Grooveshark
Rdio
Radio Paradise
Songza
SiriusXM
Mad Genius Radio
radioPup
Xbox Music
Fresca Radio
JAZZRADIO
Live365
Radio.com
ROCKRADIO
Saavn
Tidal Music
BandCamp
MixCloud
For Google Play Music, you need to have version 5.7.1781Q.xxxxxxx or higher as well as Google Play Services version 6.1.xx or higher for streaming to not use your data allowance if you have an Android device. On iOS there are no version or OS requirements to meet.
I don't believe T-Mobile announced anything in a special press release, however, we have been sent an internal communication which confirms that the three music services mentioned are now part of Music Freedom, and have been since March 18th. So if you're a fan of either Tidal Music, BandCamp or MixCloud, you can now stream to your heart's content. You can see part of the memo below: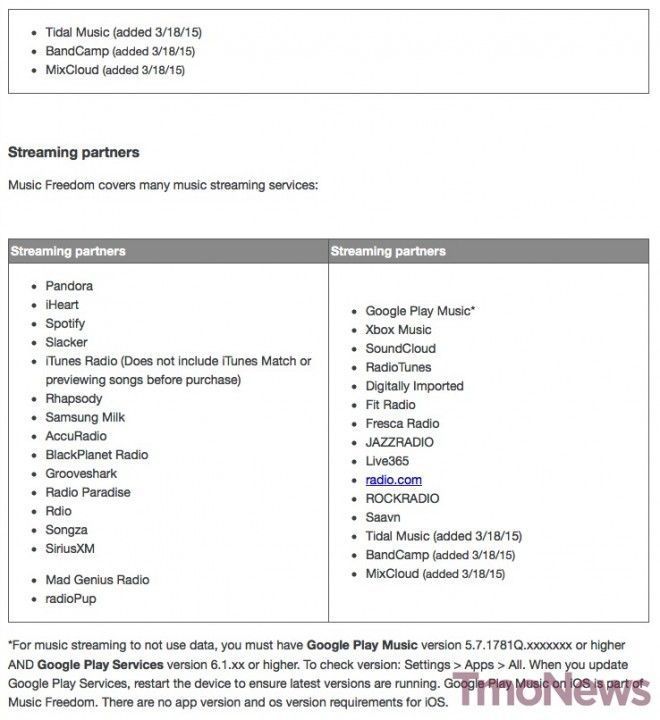 How do you guys feel about Music Freedom? Would you be going over your allowance if it wasn't for free streaming? Or is it just a nice perk?