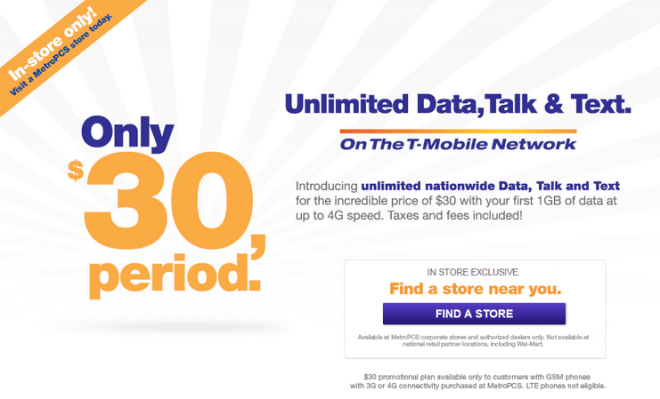 Today, MetroPCS – T-Mobile's primary prepaid brand – announced a brand new promotional plan for customers who walk in to its stores. For $30 per month (including taxes/fees) subscribers can walk out with unlimited talk, text and data with 1GB 4G data.
This is an in-store exclusive which means, sadly, you can't grab it online. You have to go to a brick-and-mortar MetroPCS branded store to get it. And you'll need a compatible 3G/4G GSM handset. T-Mobile promises "you won't find a lower cost option with data at Boost or Cricket. Period."
When you compare it to T-Mobile's 1GB PostPaid Simple Choice offering, it's pretty great value for money. Especially since MetroPCS pricing includes all your taxes and fees.
EDIT: In an earlier version of this post I had "4G LTE data" in the first paragraph. I edited it as I became aware that this is not for LTE data. "LTE phones not eligible" is included in the fine print on the MetroPCS splash page and definitely takes the shine off this deal. 
You can find out more and find your local store on the MetroPCS site.
Source: T-Mobile