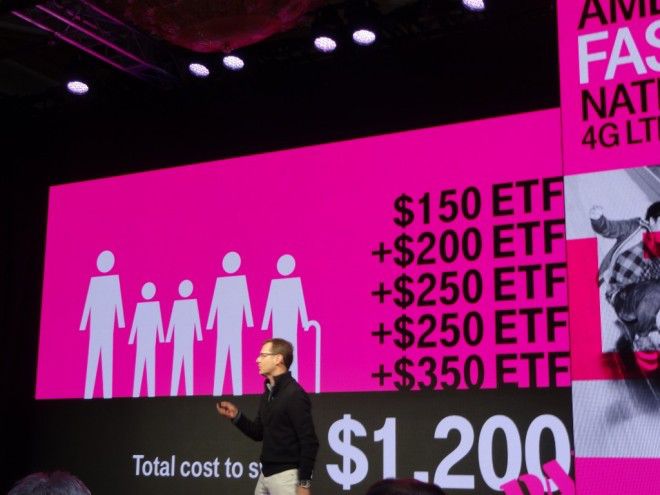 During the Uncarrier 9.0 announcement, T-Mobile revealed that it would be changing its "Contract Freedom" slightly and start including device payment plan reimbursements alongside ETF's being paid. Now dubbed "Carrier Freedom", there are a couple of differences worth noting between the two plan types.
With the ETF reimbursement – announced during Uncarrier 4.0 in January 2014 – customers get the final ETF balance amount on a prepaid Visa card. So, if you need to pay Verizon or AT&T $200 to end your contract with them early, that's what you get. You're also required to trade in your phone, but that's a separate amount. There's also a maximum limit of $350.
With the new scheme, ETF reimbursement stays the same. But if you have a device payment plan with another carrier (Next/Edge/Easy Pay/EIP), there is no limit to how much T-Mobile will give you per line. However, unlike the ETF reimbursement, the device trade-in value counts against your final device payment balance.
For instance, you owe Verizon or AT&T $500 to pay off your device payment plan and your phone is valued at $150 trade-in, T-Mobile will give you $350 on a prepaid Visa card. You still get the $500 you need to pay off your old plan, but part of it is the trade-in.
As with the ETF you're required to trade-in and port your number to T-Mobile to qualify. You also need to purchase a new device, and it's available for up to 10 lines. Full details, from an internal communication are below:
Reimbursement is normally made within 8 weeks of submitting the request. So in many ways, it's simply been adapted to suit the other carrier's device payment plans better.
Let us know if you plan on taking advantage of the new Carrier Freedom, and if it really is as easy to switch as T-Mobile claims it is.