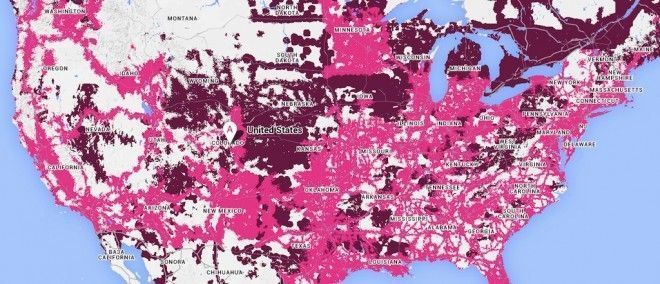 Not long ago, we were informed by our sources that T-Mobile was planning to release a brand new interactive map. Supposedly, the idea was to indicate areas where new 1900MHz and 700MHz have gone live, in order to help customers choose the best devices. And today, the map looks like it's live. Head on over to T-Mobile.com/coverage and have a look.
As a guide, T-Mobile use the following color key to help recognise what kind of coverage to expect:

There's much more detail now on the coverage map showing more areas covered by 4G LTE than there was before, and offering handy pages on which devices are 1900 and 700 band compatible. I decided to check the one major area that was upgraded to LTE last year: Cincinnati, Ohio.
As you see on the pop up window after you click on an area, there's a notice at the bottom giving you the option check which phones are 1900MHz compatible. You can see that list of 1900 devices here. You can also check the 700MHz device list here.
As for 700MHz areas, I've checked a couple that we've heard of and since there's pre-existing 1700/2100 LTE, it doesn't seem to show. Be sure to let us know what new changes you've seen since the new map went live. And – of course – if you manage to find the 700MHz spots on the map.
Hat tip: HowardForums