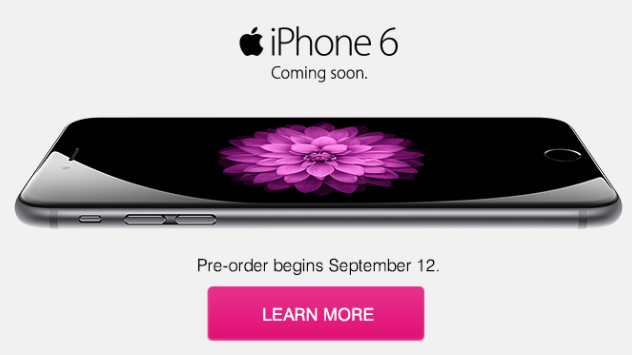 As I'm sure you're aware, Apple announced its latest smartphones at a huge event in the iconic Flint Center, near its HQ in Cupertino last night. The iPhone 6 and iPhone 6 plus are the largest and most-hyped about Apple smartphones ever to be launched by Tim Cook's company.
Although there was no official PR release from T-Mobile, the company did quietly launch the pre-registration page for the iPhone 6 on its online store. Customers can sign up to be notified when the device will be available to purchase. Information we already know, of course. T-Mo, along with most other carriers, will start selling the devices on September 19th. T-Mobile will also be accepting pre-orders from hopeful buyers from this Friday, September 12.
T-Mobile doesn't have anything on its site about specific pricing, but thankfully Apple's online store reveals that information. iPhone 6 will sell for $649, $749 and $849 for the 16, 64 and 128 GB options while the iPhone 6 plus will be $749, $849 and $949 for the same storage versions. Presuming they're available for $0 down on EIP, you can expect to make monthly payments of $27 or more.
As we mentioned in our iPhone 6 post yesterday, the new devices will both be T-Mobile Wi-Fi calling and VoLTE compatible.  In fact, with Wi-Fi calling, T-Mobile is one of only two global carriers partnering with Apple to enable the feature. The other is Deutsche Telekom half-owned EE in the UK. So, T-Mo customers can feel privileged on that front.